The experience of studying abroad lays the groundwork for a globally competitive professional life and enhances a student's personal perspective. But despite these impressive results, fewer than 10 percent of all U.S. college students will study abroad, meaning most will not receive the international experience they'll need to advance their careers, participate in the global economy, or work together across borders to address global issues. To that end, UH is joining a national effort to increase the number of students who participate in study abroad programs.
UH has committed to the Institute of International Education's (IIE) "Generation Study Abroad" Initiative, which aims to double the number of students who study abroad over the next five years. More than 150 higher education institutions also have joined the effort.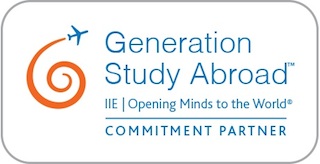 "UH will actively promote efforts to expand study abroad participation through a comprehensive 2020 Strategic Plan to offer students a unique, life-changing, educational experience overseas," said Paula Myrick Short, senior vice president for academic affairs and provost. "Increasing the number of scholarships and award amounts for studying abroad is an institutional imperative that will allow more UH students to become globally focused, multidisciplinary and multicultural professionals."
Last year, 476 University of Houston students studied abroad in 38 countries. More than 143 students received scholarships to study overseas.
The IIE's "Generation Study Abroad" initiative will engage educators and stakeholders in the public and private sectors to drive meaningful, innovative action to increase the number of U.S. students who gain international experience through academic study abroad programs, internships, service learning and non-credit educational experiences
The UH plan aims to increase study abroad participation from one percent to four percent (or 1,200 student participants) by 2020. UH Global Strategies and Studies will raise study abroad awareness on campus, create a unique brand for the Office of Study Abroad, maximize the use of social networking and expand scholarship offerings, among other efforts. The University is among the lead partners to commit to specific, measureable actions that will help reach this ambitious goal, the result of which will be thousands more American students graduating with the international experience necessary for success in a globalized world.
"Globalization has changed the way the world works, and employers are increasingly looking for workers who have international skills and expertise," said IIE President Allan Goodman. "Studying abroad must be viewed as an essential component of a college degree and critical to preparing future leaders."
For more information on the Institute of International Education's Generation Study Abroad initiative, visit http://www.iie.org/Programs/Generation-Study-Abroad
---