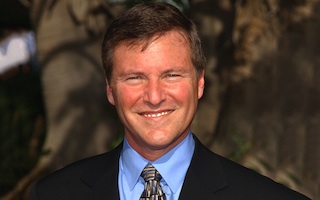 Listen to any sports-radio program and you're sure to hear discussions about draft picks—first round for our team, trading for a sixth round, who's getting which pick.  It's fodder for debate, but it was a career for Leigh Steinberg.  The former sports agent will talk about his decades-long career from 11 a.m. to 1 p.m., Wednesday, April 2 in room 205 of Garrison Gym. The event is free, but space is limited to 160 people. 
Steinberg has represented more than 150 professional athletes (including eight No.1 draft picks in the NFL). The stories are chronicled in his book, "The Agent: My 40-Year Career Making Deals and Changing the Game."
"We are very excited about the opportunity for our students to hear Mr. Steinberg speak," said Charles Layne, professor and chair of the Department of Health and Human Performance (HHP). "As a sports agent who has been extraordinarily successful, he will be able to provide students with an insider's perspective and practical advice for launching their own successful careers." 
The event is hosted by HHP, which offers a bachelor's degree with an emphasis in sports administration and a graduate degree in Sport and Fitness Administration.
Copies of Steinberg's book will be available for purchase at the event. Following his talk and a question-and-answer session, Steinberg will sign his book. 
WHAT: "The Agent: My 40-Year Career Making Deals and Changing the Game" Leigh Steinberg, former sports agent, discusses his life and career as one of the most influential sports agents in the industry
WHEN: 11 a.m. – 1 p.m., Wednesday, April 2
WHERE: Garrison Gym, Room 205
For directions and parking information, visit http://www.uh.edu/maps/buildings/?short_name=gar
For more information on the Department of Health and Human Performance, visit http://www.uh.edu/class/hhp/undergrad-programs/kinesiology-sports-admin/index.php
---