A daylong vision expo will be held Saturday, April 12 at the University of Houston (UH), offering information on rehabilitation and resources for the blind and visually impaired to live independent and productive lives. The event is free and open to the public, and there will be door prizes, lunch, light refreshments and musical entertainment.
Promoting the theme of user-friendly accessibility for the visually impaired, the Houston Area Insight Expo will take place from 9 a.m. to 4 p.m., offering exhibits, workshops, speakers, panel discussions, information and resources for the blind and visually impaired. Sponsored by the Houston Area Visually Impaired Network (HAVIN), the event is hosted by the University Eye Institute's Center for Sight Enhancement (CSE) in the UH College of Optometry.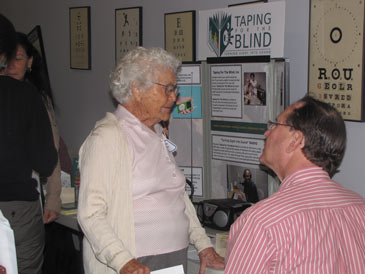 Breakout sessions will include workshops comparing Apple and Android product capabilities, media accessibility, speech-to-text technology and an interactive panel discussion with assistive technology vendors. Meant to encourage collaboration and sharing of resources, in addition to the workshops, a variety of vendors and organizations serving the visually impaired community will be displaying their information and products for attendees.
Joe Steinkamp with Serotek Corporation, a company devoted to providing easy, affordable and innovative solutions for an accessible digital lifestyle for the blind and visually impaired, will be the keynote speaker. His address will focus on "The State of Assistive Technology for the Blind and Visually Impaired."
While walk-ins are welcome, advance registration is preferred. To register, send an email to
havin.news@yahoo.com
with attendee name, address, phone and email. Complimentary parking is available in the lot behind the J. Davis Armistead Building at
http://www.uh.edu/maps/buildings/?short_name=JDA
.
Using the latest technology, training and techniques, the CSE strives to help visually impaired patients achieve independence and an improved quality of life through vision rehabilitation. HAVIN is comprised of various volunteer support groups from across Houston. Its vision is to educate, provide peer support and unify the visually impaired community in the Greater Houston area.
WHAT:
Houston Area Insight Expo 2014
WHEN:
9 a.m. to 4 p.m., Saturday, April 12
WHERE:
University of Houston
Health and Biomedical Sciences Building
4811 Calhoun Road
Map: 
http://www.uh.edu/maps/buildings/?short_name=HBS
###
To receive UH science news via e-mail, sign up for
UH-SciNews
.
Follow HAVIN on
Facebook
.
---