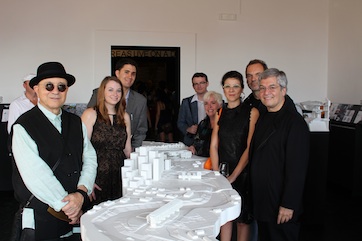 It was a fast and furious week in Venice. Five students from University of Houston's Gerald D. Hines College of Architecture unveiled projects as part of the 14th International Architecture Exhibition at the 2014 Venice Biennale. Now, these students are back in Houston after installing the multimedia exhibition and presenting their projects during opening receptions.
Although the trip is over, a new journey has begun for the student participants (Lacey Richter, Sam Goulas, Jackson Fox, David Regone, Wells Barber) and the Gerald D. Hines College of Architecture. With new international exposure and favorable reception for Biennale patrons, the college furthers its reputation as an institution based on creativity and innovation.
The college's exhibition "Risky Habit[at]: Dynamic Living on Buffalo Bayou," offers an overview of Houston's Buffalo Bayou and its relationship to the city. More importantly, it presents solutions to the challenges faced by both the city and its waterways.
 "With the rising seas and climate changes, we are entering a new age. Humans must learn to live with the natural environment in a sustainable way," said Peter Jay Zweig, who guided students through their projects and curated and designed the exhibition. "This exhibition looks at Houston's Buffalo Bayou as a case study and sheds light on the natural and manmade threats to the environment and the city. It also offers possible solutions to these problems."
Among the sustainable solutions presented in "Risky Habit[at]" are a self-sustaining prison unit with gardens and specialized programming, green manufacturing facilities, an audio enhanced educational facility and a recreational structure constructed using inflatable technology.
These projects and others are on view in Palazzo Bembo along Venice's scenic Grand Canal through Nov. 23. "Risky Habit[at]" is included in the Biennale's Collateral event "Time, Space, Existence."  More than 200,000 art and architecture patrons and professionals are expected to view exhibitions from around the globe. UH's Gerald D. Hines College of Architecture is the only Texas institution featured in the architecture event "Time, Space Existence."
Zweig and students coordinated the exhibition's installation and attended opening receptions showcasing these works to architects, patrons and dignitaries. Among those in attendance were UH President Renu Khator, Suresh Khator, associate dean at the Cullen College of Engineering; the college's namesake and real estate giant, Gerald D. Hines; and Patricia Belton Oliver, dean of the College of Architecture. Also in attendance was noted architect Michael Rotundi who served as a visiting critic during the projects' development. Members of the international press also visited the exhibition during opening week.
"I think this is a fantastic effort for the University," Hines said. "Achieving this level of excellence and getting worldwide fame is what we all hoped for."
During the week's festivities, Zweig and students also attended a private dinner with the Khators, Hines and Oliver. At the event, students shared their recollections of the week in Venice and participating in the prestigious Biennale.
"This whole experience, with all of these great students and the faculty that brought it together has been awesome," said Goulas, a Houston native making his first trip out of the country. "Working as a team and making lifelong friends has been an experience that I will cherish forever."
"It's great to see the after-effects of this entire project," Regone added. "Seeing people taking photos of your work and asking about it is one of the rewards. But, I also enjoyed learning from others and asking about their works as well. It's been a very educational experience."
"Risky Habit[at]" was the product of two years of work from students at UH, but it is one exhibition that emerged from the groundbreaking "Three Continents Studio." The studio partnered UH, Tulane University, University of Buenos Aires and Technical University, Delft to explore problems and architectural solutions for coastal communities. Works from the other "Three Continents" institutions also are on view at the 2014 Venice Biennale.
While Zweig and his students left the fruits of their labors in Venice, they might soon see them presented in a familiar site – UH's Gerald D. Hines College of Architecture.
"The international stage is just the beginning," Zweig said. "The Biennale offered the perfect opportunity to share these ideas and further attract global attention to the college. Now, the goal is to bring these projects to a place where they will resonate. It's important that these ideas are shared with Houstonians, and we ultimately will do that."
 "When I was first told about UH's participation in the Biennale, I was very excited. Once I arrived at the space, the event and the exhibition was much bigger than I imagined," said UH President Renu Khator. "The greats of architecture are here.  Seeing our students work next door to professional projects is both impressive and gratifying."
To recap the week's events and learn more about each student participant, visit the Creative Pride blog on the Houston Chronicle's Chron.com.
The exhibition was made possible through the support of UPS, which transported its components by plane, train, truck and even gondola to Venice.
The Gerald D. Hines College of Architecture offers bachelor's and master's degrees in a variety of disciplines including architecture, space architecture, interior architecture and industrial design. Faculty members include esteemed professionals in the architectural community, as well as award-winning academic veterans. Facilities include studio spaces, the new Materials Research Collaborative, computer labs and the Burdette Keeland Jr. Design Exploration Center. To learn more about the college, visit http://www.arch.uh.edu/.
---