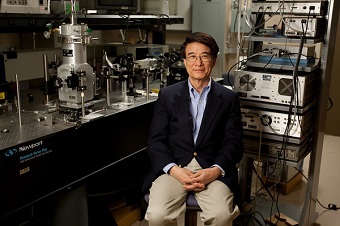 Paul Chu, the founder of the Texas Center for Superconductivity at the University of Houston and a member of the National Academy of Sciences, is included in an exhibit honoring the contributions made by immigrants from Taiwan and China to the United States.
"It gives visitors a different view of immigrants and tells stories of how immigrants started their journeys in America," said Roy Yuan-Rong Leu, vice minister of the Overseas Community Affairs Council in Taiwan.
The exhibit, "Immigrants Building America," opened Sunday, June 1, at the Culture Center of Taipei Economic and Cultural Office, 10303 Westoffice Drive. It will remain up through June 14.
Through historical photographs and accounts, the exhibit features the work of early immigrants who arrived from China to fill the need for labor in the gold mines and to build the railroads across the United States, as well as describing the impact of the Chinese Exclusion Act of 1882 and subsequent extensions, which restricted Chinese immigration. It wasn't repealed until 1943.
In addition to Chu, successful immigrants and children of immigrants cited in the exhibit include Rockets star Jeremy Lin, the son of Taiwanese immigrants; former Olympic skater Michelle Kwan, and former Cabinet members Energy Secretary Steven Chu and Labor Secretary Elaine Chao.
Paul Chu, who grew up in Taiwan, told the crowd gathered for the exhibit's Houston opening that he is grateful for the contributions of earlier immigrants and mindful of the discriminatory laws and policies they suffered.
 "I had the opportunity to come to this country to seek my dream as a scientist and an educator," he said.
 Chu gained global recognition when he and his colleagues discovered superconductivity at above 77 degrees Kelvin, the boiling point of liquid nitrogen. That ushered superconductivity into the modern age, and superconducting materials now are used for energy generation, transmission and storage, as well as in the health field, including magnetic resonance imaging, or MRI, among other uses.
Chu served as president of Hong Kong University of Science and Technology from 2000-2009, when he returned to UH, where he continues his research.
For more on the exhibit, see http://virtual.ait.org.tw/en/iba/panoramas.html#scene=/en/iba/scenes/s1
---