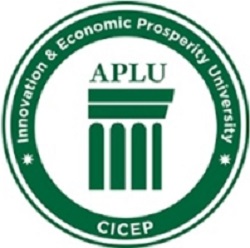 The University of Houston today was designated as an Innovation & Economic Prosperity University by the Association of Public and Land-grant Universities (APLU), a designation acknowledging universities working with public and private sector partners to support economic development through a variety of activities, including innovation and entrepreneurship, technology transfer, talent and workforce development and community development.
"Public universities serve as economic engines for their local communities and states by conducting cutting-edge research to reach new breakthroughs, and by developing the talent to help existing businesses grow stronger and enabling new ones to develop and thrive," APLU President Peter McPherson said. "The 14 institutions receiving the 2014 Innovation & Economic Prosperity University designation demonstrate how public research universities extend beyond their campuses to engage their communities in economic development that creates jobs and improves lives."
The other institutions include: Georgia Institute of Technology, Indiana University, North Carolina State University, The Pennsylvania State University, Purdue University, South Dakota State University, Texas Tech University, the University of Illinois, the University of Massachusetts Boston, the University of Massachusetts Lowell, the University of Pittsburgh, Virginia Tech, and Wayne State University.
"This recognition underscores the University's continuing commitment to support economic development in our region through mutually beneficial partnerships," said UH President Renu Khator. "It is gratifying to have the success of our efforts acknowledged, and we are honored to join such an impressive group of peer institutions."
UH and the 13 other public institutions received the designation after conducting a self-review with outside stakeholder input, followed by submitting an application and a rigorous independent review process.
"Institutions engaging in the Innovation and Economic Prosperity Universities designation program have an opportunity to work with the Commission on Innovation, Competitiveness and Economic Prosperity Framework to identify both institutional accomplishments in innovation and economic development, and also areas for growth and improvement," said Jim Woodell, APLU assistant vice president for Innovation and Technology Policy. "Using one or more of the tools as part of their self-study, universities assess where they are and where they and their regions are headed."
---