The University of Houston Libraries are part of a growing trend in libraries. The formidable system with more than 2,000,000 volumes in its collection now is home to its first Hispanic Collections archivist and librarian.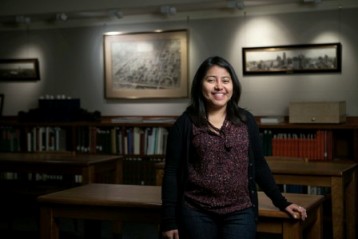 "Professional positions focused specifically on Hispanic history are relatively new," said Lisa Cruces. "It's been exciting to see more institutions create positions such as mine or increase the diversity of the records they collect."
The Houston Metropolitan Research Center has a Hispanic Collections archivist, as does The University of Texas at Austin, whose repository is very high profile. 
"With Houston's large and growing percentage of Hispanics and Latinos, not collecting their cultural record would be a serious disservice," said Pat Bozeman, UH librarian and head of Special Collections. "Having advocated for a Hispanic archivist for a number of years, I'm more than thrilled that UH Libraries were finally able to create this position, and we couldn't have gotten a better archivist than Lisa Cruces."
A native Texan, Cruces has an undergraduate degree in history and Latin-American studies from Texas State University-San Marcos and a graduate degree in Information Studies with concentrations in archives and academic librarianship from UT-Austin.  She's worked in various collections in Austin always with the same goals: identifying, preserving and creating access to Spanish-language materials.
The UH Hispanic Collection consists of the Mexico Documents Collections with manuscript materials dating from 1570-1898, fine art prints relating to immigration, ecology and LGBT issues, and the Alonso Perales Papers, which detail the life and works of the Texas civil rights lawyer and diplomat. The collection also contains materials from Arte Público Press (APP) and its Recovering the U.S. Hispanic Literary Heritage project. Housed at the University, APP is the nation's largest and most established publisher of contemporary and recovered literature by U.S. Hispanic authors.
Cruces says her goal is to develop a more inclusive and accurate picture of Houston's history and the history of Hispanics in the U.S.
"I see this goal manifesting itself in a variety of ways, namely, by increasing community involvement in identifying and preserving material, increasing use of the materials in the classroom, and collaborating with stakeholders to increase accessibility," she said.  
Cruces says it's her hope to encourage universities and other stewards of history and education to preserve and engage with all demographics of the community. 
"Houston is home to the fourth largest concentration of Hispanics in the U.S., but we have only a handful of local repositories actively collecting the history of the Hispanic members of the city and surrounding area," she said. "The University of Houston is primed to seize this opportunity and with the help of the greater community, enrich scholarship pertaining to the spectrum of Hispanics and related topics.
Visit the Hispanic Collections online: http://info.lib.uh.edu/about/campus-libraries-collections/special-collections/hispanic-collections
---