Researchers at the University of Houston's Gerald D. Hines College of Architecture are taking a close look at Houston's neighborhoods. Led by UH architecture professor Susan Rogers, the Community Design Resource Center (CDRC) ventures into Houston communities and identifies areas in need of growth or change.
The center's annual Collaborative Community Design Initiative helps foster partnerships between Rogers' team and Houstonians. Each year, this project focuses on city communities that are challenged economically or by lack of infrastructure.
"The Collaborative Community Design Initiative is basically a yearlong program that partners with four Houston communities … basically to look at sustainable and comprehensive community development and design," Rogers said.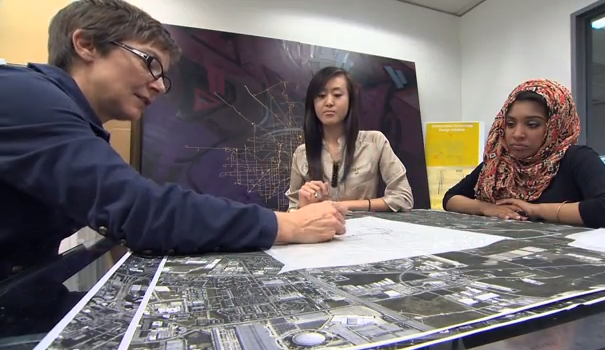 Among the issues facing many of these communities are shuttered storefronts, few sidewalks or walking areas, no social spaces and limited commercial development. Through the CRDC's expertise, community members benefit from proposed urban designs aimed at enhancing their respective neighborhoods. Still, the initiative is collaborative, and it is through partnerships that real change can happen.
"I think that for the University of Houston … it reflects our commitment to community engagement and community outreach," Rogers said. "I think having real community partners and being able to talk to people and to understand the challenges and the strengths changes students' relationship to how design can actually be used as a tool for change."
The Collaborative Community Design Initiative was started in 2009. As part of UH's Community Design Resource Center, the program builds relationships between communities, UH, and experts in urban design, real estate and community development. CCDI's previous project and book "Corridors" focused on the Greater Third Ward, Harrisburg/Manchester, Independence Heights and Greater Heights. Every other year, CCDI will focus on four new Houston neighborhoods. For more details on CCDI or the Community Design Resource Center, visit http://superhouston.wordpress.com/
---