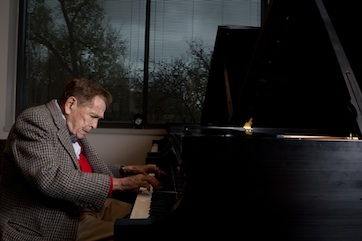 Two generations of master musicians will bring their talents to the University of Houston for the 31st annual International Piano Festival. Included in this year's event are festival founder and one of classical music's most esteemed figures Abbey Simon, popular concert artist Sandro Russo and innovative duo Anderson and Roe.
These artists will deliver concerts and master classes Jan. 31 – Feb. 2 at UH's Moores School of Music. Recitals will be performed in the Moores Opera House, and master classes will be conducted in UH's Dudley Recital Hall. Festival tickets can be purchased at the Moores Opera House box office or reserved by calling 713-743-3313. Prices are as follows:
Recitals only - $60, $35 for students and seniors
Recitals and master classes - $85, $45 for students and seniors
Single recitals - $25, $15 for students and seniors
Single master classes - $10, $5 for students and seniors
Artist conversation luncheon (12:30 p.m., Feb. 1)
Simon, Hugh Roy and Lillie Cranz Professor of Music, turns 92 this year and continues to lead the festival he founded in 1984. A child prodigy, Simon picked up the piano at age 3 after replicating sounds he heard on the radio. That initial foray into music led Simon on a creative journey that has extended for nearly a century. Simon was trained by legendary composer Josef Hofmann. He earned the prestigious Walter Naumburg Prize in 1940 – leading to performances at New York's Town Hall and Carnegie Hall. In 1977, he brought his talents to UH, where he continues to groom rising musicians and entertain Houston concertgoers. Simon remains one of the most recorded classical music artists of all time.
Born in Sicily, Russo also gravitated toward music at a young age. He is a graduate of the V. Bellini Conservatory and Royal College of Music in London. In 2000, Russo arrived in the U.S. and won the Bergen Philharmonic Orchestra Concerto Competition. That year, he performed Liszt's "A major Concerto" alongside conductor David Gilbert at the Bergen Performing Arts Center in Englewood, N.J.. Russo has performed in some of the world's top concert halls including Concertgebouw in Amsterdam, Salle Cortot in Paris, Teatro Politeama in Palermo, Italy, and Carnegie Hall in New York. To learn more about Russo, visit his website.
Greg Anderson and Elizabeth Joy Roe's musical union began while they were students at The Julliard School. The duo's flamboyant performances have earned acclaim from critics and audiences alike. At times, the artists share the piano bench for well-oiled performances that find their fingers crisscrossing the keys. During other performances, they embark on intricate duets on two grand pianos. The pair takes on a variety of genres including popular music (Michael Jackson's "Billie Jean"), film scores ("Star Wars") and of course, classics from Mozart, Vivaldi and others. Anderson and Roe have performed on National Public Radio and MTV. They also have taken their unique performance style to festivals and concert halls across the U.S. To learn more about Anderson and Roe, visit their website.
A schedule of 2014 International Piano Festival concerts and master classes is as follows:
7:30 p.m. – Abbey Simon recital in the Moores Opera House - Beethoven: "Sonata No. 10 in G-sharp Minor, Op. 14, No. 2; Schumann: "Arabesque," "ABGG Variations"; Chopin: "Sonata No. 3 in B Minor, Op. 58"
9 a.m. – Sandra Russo Master Class in Dudley Recital Hall
12:30 p.m. - Artist Conversations Luncheon in the
2 p.m. - Abbey Simon Master Class in Dudley Recital Hall
7:30 p.m. – Anderson and Roe recital in Moores Opera House – Bach/various: "Brandenburg Concerto No. 3"; "Erbarme dich" (from "St. Matthew Passion")
11:30 a.m. - Anderson and Roe master class in Dudley Recital Hall
3 p.m. – Sandro Russo recital – Chopin: "4 Ballades"; Strauss-Tausig: "Nachfalter (valse-caprice)"; Schrabin: "Valse, Op. 38," "Sonata No. 5 in F sharp major, Op. 53"; "Flammes sombres (Danse Op. .73)," "Vers la flame (Poeme Op. 72),"; Ravel: "La valse"
The Moores School of Music offers bachelor's, master's and doctoral degrees. It serves approximately 600 students annually. Areas of study include composition, conducting, performance, theory and musicology. Its faculty consists of internationally recognized performers, composers and scholars. A majority of the school's concerts are performed in the 800-seat Moores Opera House. For more details on the Moores School of Music, visit http://www.music.uh.edu/.
---