In May 2013, UH Dining Services reached a major milestone: it surpassed the 'one million dining hall meals served in a single academic year' mark. Since then, Dining Services has expanded its offerings and hired an executive chef, nutritionist and a dozen sous chefs from places like The Four Seasons Hotel.
"Our front line associates are keenly aware of the importance of taking what we've been doing and elevating the presentation, quality and seasoning on everything served," said UH Dining Services Executive Chef Michael Bargas.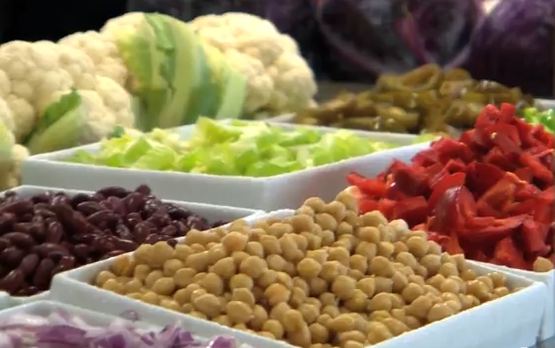 Together, they have created more than 500 new menu items, as well as daily gluten-friendly and vegetarian options.
"Every day of the week, we get produce," said Monica Woods, a UH Dining Services sous chef who previously worked at The Four Seasons. "I'm very impressed with a lot of the dishes here. It's like going to a restaurant. It's a fine dining facility here." 
Chef Bargas, a graduate of Princeton University and the Culinary Institute of America in New York, recently worked at the Art Institute of Houston serving as the academic director for culinary education.  Bargas also worked as a chef at Memorial Hermann Hospital, Marathon Oil and Masraff's, a Houston fine dining restaurant.
"We're literally cooking off 425 chickens for lunch," said Bargas.  "If we do an Asian style on one dish, in one area, the other side of the building might have a Latin flair, classic American fare and Italian wedding soup."
The University's largest dining facility, Fresh Foods Co., features eight different serving stations, including a bake shop.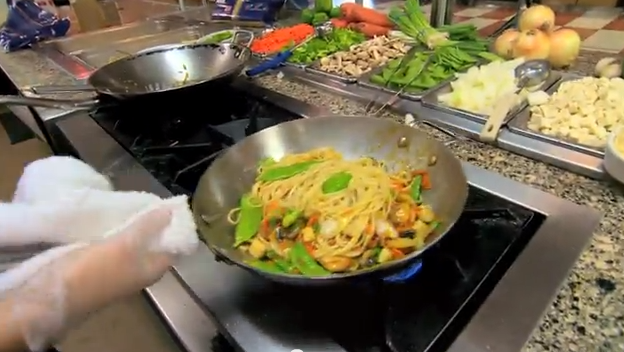 "There's gluten free, vegetarian, a brick oven, a round grill, a deli … we have soups all day long, a full salad bar, as well as a bistro and grill.  The bistro serves more down-home food, something that kids may be more familiar with from home," said Woods.  "Our salad bar stays open until midnight every night.  In the restaurant industry, the weekends tend to be busy, here we're busiest during the week, from Sunday night until Wednesday evening."
Meantime, in addition to offering expertise on menu items, a staff nutritionist is also available to meet with students who have food allergies, want to eat healthier or who have other diet questions.
For more information: uh.edu/dining
---