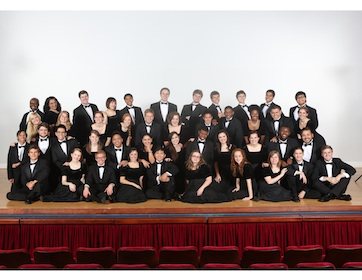 The award-winning University of Houston Moores Concert Chorale has performed in historic opera houses, European villages and international performance halls. It also has entertained audiences at national music conventions and even opened for rock legends The Temptations. On March 3, the chorale performs in a venue that some people may not immediately think of as a haven for classical music –  church.
Led by director Betsy Weber, the Chorale will perform during a special Latin mass at Houston's Co-Cathedral of the Sacred Heart (1111 St. Joseph Parkway).  Seated in the church's rear pews, the chorale will deliver Frank Martin's "Mass for Double Choir" accompanied by organ music performed by Crista Miller, music director of the Co-Cathedral. This special performance and mass will begin at 7:30 p.m. It is free and open to the public.
Martin composed this work in 1922, but immediately shelved it. His feeling was that the composition was to only be shared with a higher power. Colleagues persuaded him to allow it to be performed, and in 1963, "Mass for Double Choir" made its world premiere.
The piece has a reputation for being challenging for singers and very popular with concertgoers. "Mass for Double Choir" includes the traditional liturgy of a Catholic mass. It will be performed within the context of an actual church service rather than in a concert setting.
"Music majors and choir members study the Ordinary or order of the mass, but they do so in a concert setting," Weber said. "I thought it would be instructive for our choir to sing in an actual church service. This is both an educational and inspirational experience and an opportunity to collaborate with community members such as the Co-Cathedral."
Weber is working with Miller and Michael Earthman, the priest who will preside over the mass, in coordinating this unique musical experience. Connecting a university choir with a church service is rarely if ever done, Weber added. She hopes that the Concert Chorale's collaboration with the Co-Cathedral will inspire other programs to work on similar projects.
"We think this should become a tradition," she said. "It's astounding that this not happen more often. Many people do not realize that Gregorian chats and mass settings have informed all of Western classical music. This project is aimed at demonstrating to music students how this music is used within the context of a mass and to parishioners how the music of the church has impacted classical music. "
The Moores School of Music is one of the premier music schools in America. Offering bachelor's, master's and doctoral degrees, it serves approximately 600 students annually. Areas of study include composition, conducting, performance, theory and musicology. Its faculty consists of internationally recognized performers, composers and scholars. Among its ensembles are the Moores School Symphony Orchestra, Moores Jazz Ensemble, Moores Opera Center, Concert Chorale, Concert Women's Chorus, Spirit of Houston Cougar Marching Band, Wind Ensemble and Percussion Ensemble. A majority of the school's concerts are performed in the 800-seat Moores Opera House. For more details on the Moores School of Music, visit http://www.music.uh.edu/.
---