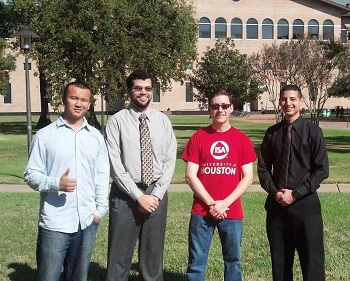 Joshua Lopez would rather program than Snap Chat.
"Personally, I'm not too big on social media," he said.
But the Cornell Cup USA – a year-long academic embedded design competition sponsored by Intel – wants students to do both.
So Lopez and eight other students in the University of Houston's College of Technology are turning to Facebook, Twitter, blogs and other social media to get out the word about the innovative designs that earned them two spots in the competition finals. They are among 35 teams from universities around the country to make it this far.
Their designs couldn't be further apart.
Lopez and his teammates – team lead Ayazhan Zhakhan, Reimberto Fuentes and Steve Reyes – are building a Smart Energy Micro Grid intended to act as a connection between the end user, whether that's a commercial building or a residence, and the larger grid, controlling the power distribution process and ensuring the efficiency of the system while monitoring overall power use. Reyes is studying computer engineering technology; the other three are majoring in electrical power engineering technology. All are seniors.
Zhakhan said he got the idea while watching a documentary on a power blackout in New York and thinking about people installing generators for backup power. People increasingly are turning to renewable power – think rooftop solar panels – to gain independence from the grid, but connecting that power to the grid is complicated, he said.
The Smart Energy Micro Grid is designed to make it easier.
The other team is focusing on sports innovation, working on a system that has implications for athletes from the school yard to the Olympics, while protecting them from injuries. The Synerge Tech team has focused on basketball shooting analysis to improve the free throw success rate – currently about 80 percent among the top 250 NBA players – based on the belief that technology can help make every practice a perfect practice.
They point to a quote attributed to legendary football coach Vince Lombardi: "Practice does not make perfect. Only perfect practice makes perfect."
Now, said Corey Miles, a senior computer engineering technology major and the team lead, "a basketball player can make a bad shot, but as long as they make it, it's justified."
The constant justification of bad techniques can confuse the body, he said.
The system uses motion capture techniques, electromyography to track muscle signals and video cameras to track every movement, allowing athletes – and their coaches – to analyze the action in real time.
Xiaojing Yuan, associate professor of engineering technology and faculty advisor for the project, said it would work for other sports and also as a rehab tool for people who have been injured.
Other team members include Zainab Bashir, Katherine Martinez, Falon Dostal and Jordan Harper. All are seniors majoring in computer engineering technology.
All finalists in the Cornell Cup competition received Intel Atom boards and other equipment, along with $1,500 to help build the project.
The social media component is new this year, with a series of deadlines driving people to a survey to vote for the projects they like at: http://www.systemseng.cornell.edu/engineering2/se/intel/news/blogsurvey.cfm. The social media component won't affect the technical award, which will be decided in May.
"They want projects that can help people," Martinez said, and social media is a way to get out the word about the potential benefits.
She said getting the word out to other students at UH could give the Cougar teams a boost.
"I'm pretty sure if everyone around here decided to vote, UH would be able to win," she said. 
---