While many of us prepare for holiday celebrations, two groups of University of Houston students are packing for a semester in Austin as interns during the 84th Texas Legislative Session.  The students come from the Hobby Center for Public Policy (HCPP) and the Graduate College of Social Work (GCSW).
Suzanne Pritzker, GCSW program director, says this internship is an opportunity for social workers interested in developing skills that will prepare them to influence public policy.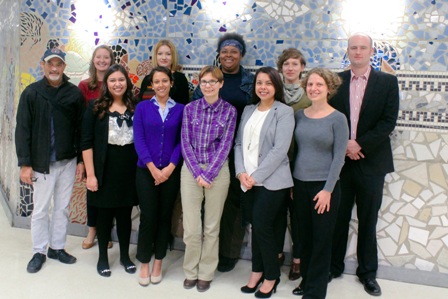 "The GCSW Austin Legislative Internship Program offers a unique opportunity for social work students to work within a state legislature," she said. "By working on the front lines of the policy making process, students gain knowledge of how policies are made along with the confidence and skills to impact policy."
The eight students from the GCSW will intern with the Legislative Study Group (LSG), an official caucus of the Texas House of Representatives, and in two representatives' offices. Supported by the office of Rep. Garnet Coleman, the GCSW has sent more than 50 students over the past 10 years. In addition to conducting legislative analyses students placed at the LSG will be responsible for the mid-session release of "Texas on the Brink," a report which documents how Texas compares with the rest of the country on a variety of quality of life indicators. 
"We will be researching proposed legislation and the real-world impacts it may have, then evaluating those impacts using a progressive lens and providing an overall assessment of whether the bill should or should not be supported," said GCSW student Nakia Winfield. "This experience will shape my professional goals by allowing me an inside look at the Capitol and giving me an opportunity to make an impression and make an impact."
Renée Cross, associate director of the HCPP and director of the center's Hobby Fellows program, says a legislative session internship offers opportunities to learn and grow, both professionally and personally.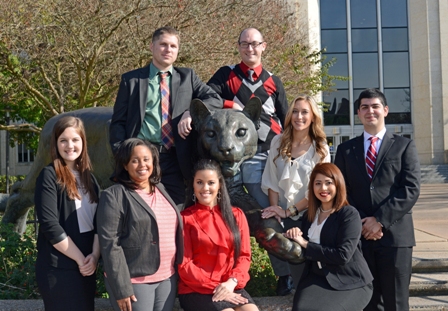 "There is a feeling of 'all hands on deck' during the hectic five months of a session," she said. "Our Hobby Fellows will be immersed in the legislative process through research, writing, hearings and meetings with constituents and lobbyists. These experiences can transform a young adult's life."
The eight Hobby Fellows will work full-time in a legislator's office.
"I want to work on legislation and policy research," said Eric Schroeder, who will graduate this month with a political science degree and will work in Rep. Garnet Coleman's office. "I sought out Rep. Coleman because of his work on mental health issues. I had a brother who suffered from paranoid schizophrenia and committed suicide. That sparked my interest in public policy." 
Acceptance into the program is based on merit—a combination of grades, experience and writing ability.  Candidates also must have a demonstrated record of public service.
"I'll be working in Rep. Jim Murphy's office," said Roel Benavides Jr., who will graduate this month with a political science degree. "While I'm excited about dealing with legislation and policy issues, I'm just excited to be working in the Capitol."
All interns will be settled in Austin by the first week of January ready to work when the session begins Jan. 13.
For more information on the UH Hobby Center for Public Policy's Hobby Fellows program, visit http://www.uh.edu/class/hcpp/interns/hobby-fellows/
For more information about the GCSW Legislative Study Group interns, visit http://www.uh.edu/socialwork/academics/msw/specializations/political-specializations/austin-legislative-internship/
---