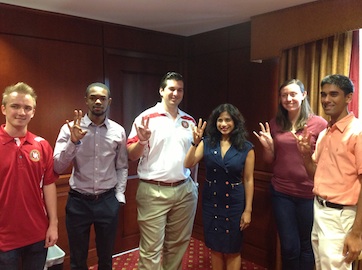 The University of Houston welcomed back one of its most loyal Cougars this week.
Texas Secretary of State Nandita Berry – a former UH System Regent and alumna – revisited her alma mater Thursday to chat with student leaders in UH's Regents Board Room about the election process.
In her role as Secretary of State, Berry is Texas' chief election officer and helps ensure voters are informed on how and where to vote in their respective districts. Her visit to UH was to encourage student leadership to keep their constituents updated on election-related details including the voter registration deadline (Oct. 6), voter eligibility, polling options for college students, election dates and where to access voting information.
All of this information (and much more), she said can be accessed at VoteTexas.gov. The comprehensive website contains a page dedicated to how college students can vote.
"There are different voices in a choir. Alto. Tenor. Soprano. Bass. You need all four for the harmony to come out just right," she said. "Your vote is your voice. You want it to be heard. Just like the notes of a song, we need to hear different voices in each election." 
College students, she said, are unique voters. They can register to vote in either their home counties or in the cities in which they attend a university or community college. Students also can vote using an absentee ballot. She reminded students, however, that appropriate photo identification is required. Student IDs are not among the forms of identification that can be used at the polls.
"The laws in the state of Texas require that voters provide a valid photo ID," she said. "Students need to start thinking now about what form of identification they will take with them when they vote or make arrangements to have the proper ID." 
If a student is without an appropriate photo ID (such as a driver's license or passport), Berry indicated that he/she could obtain a voter's certificate from a Department of Public Safety Office, but that document would require a birth certificate and other documentation.
UH is among 11 universities that Berry will visit to promote VoteTexas.gov. Her goal is to engage students and make them aware of this online resource so they are aware of their voting rights and are ready for the upcoming elections.
"We can't let our first-time voters or college students miss out on this opportunity because of a lack of information," she said. 
Among the students who met with Berry were Student Regent Asit Shah, Student Government Association (SGA) President Charles Haston, SGA Director of External Affairs Marcus Smith, SGA Senator Max Ballands and SGA Associate Director of Governmental Relations Charlotte Christian.
Others in attendance included Harris County Tax Assessor Mike Sullivan, UH Dean of Students William Munson, Harris County Manager of Voters Amy Nguyen (a UH alumna) and Harris County Clerk Stan Stanart.
According to Stanart, Harris County is the third largest county and second largest voting entity in the United States. Harris County will host 41 early polling locations and 770 polling locations on Election Day. He estimates 850,000 Harris County residents will vote in November's election.
Berry reminded the student leaders to remain focused on academics but also to use their influence to inform students about the importance of participating in local, state and national elections.
"You have to get A's," she said. "But, you also have to do your civic duty."
---