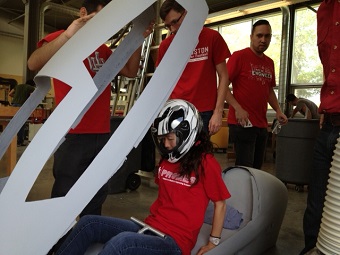 Cindy Au's usual ride is a Camry, but look for her in something a little more high tech when the Shell Eco-Marathon comes to town later this month.
 Au is a member of one of four teams the University of Houston will field for this year's competition, which challenges students to design, build and drive energy efficient cars. It will be held April 25-27 at Discovery Green (1500 McKinney St.).
 The cars themselves look like futuristic Formula 1 racing cars, even though top speed might be 20 mph. Some will be powered by old-fashioned gasoline, but others will be fueled by sunlight, electricity, natural gas or hydrogen.
 Au, a senior mechanical engineering student, will serve as driver for the three-wheeled, ultra-light electric car designed and built by Team Primer. She also is in the group working on safety, braking and steering issues.
 The UH teams, two from the Cullen College of Engineering and two from the College of Technology, began working on the cars in September. In some cases, the work began even earlier.
 The Shell Eco-Marathon is an international competition run by the energy company; the North American competition has been held in Houston for the past few years.
 Split into two classes – a prototype class, focused on maximum efficiency, and an urban concept class that encourages more practical designs – the competition allows students to enter cars in one of seven categories: gasoline, diesel, biofuel, fuel made from natural gas, hydrogen, solar or electric.
Contestants travel as far as possible on the equivalent of one liter of fuel, driving at a set speed.
The cars serve as senior projects for both the 10-member Team Primer and the Dream Team, a three-member group of mechanical engineering technology students.
 "You can implement almost everything you've learned," said Ryan Haire, a mechanical engineering technology senior and a member of the Dream Team, which is building a car that will run on a gas-to-liquid fuel provided by Shell. Made from natural gas, the fuel has fewer greenhouse gas emissions than gasoline or diesel.
 All four teams have spent thousands of hours on the projects, and they aren't quite finished.
 "They're learning 'real' engineering, specifying and buying parts … and they're putting everything together," said Richard Bannerot, a professor of mechanical engineering and advisor for Team Primer.
 It hasn't been easy.
 "None of us have previous car experience," Haire said of the Dream Team. "This is a new experience altogether."
 The Dream Team predicts their car will get 120 mpg, thanks partly to a driving strategy that involves accelerating through turns, then killing the engine and rolling. Top speed will be about 20 mph.
Team Primer's car – a plug-in battery will power a motor fitted into the single rear wheel – is rated for 50 mph but will be go considerably slower for safety reasons, said team leader Ryan Hannemann, who was named the Cullen College of Engineering's Outstanding Senior student this year.
He said the battery will be able to go further than 100 miles on a charge.
The Team Primer car and one powered by a hydrogen fuel cell will be on display in the Engineering 1 building Wednesday morning, April 9. 
The Dream Team will have their car on display during the city's Earth Day celebration Saturday, April 12, team leader Alexus Romero said.          
---