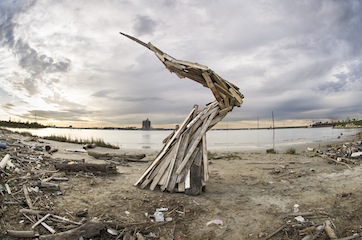 Houston art patrons know spring has arrived when the works of University of Houston artists begin to take over the Blaffer Art Museum. Art aficionados soon will have the opportunity to experience the talents of the UH School of Art during two exhibitions hosted by the museum.
The 36th Master of Fine Arts Thesis Exhibition will be on view April 5 – 19. A few weeks later, the museum opens the annual UH School of Art Exhibition (April 26 – May 10) with works created by junior, senior and graduate students.
The MFA Exhibition will spotlight 18 student artists. These include Jose Baez-Franceschi, Aaron Bielish, Carlos Corona, Jessica Crute, Brenda Cruz, Jamie Davis, Lauren Moya Ford, John Forse, Betsy Huete, Bradley Kerl, Kyle Earl McAvoy, Linh O'Briant, Tom So, Jeremy Underwood, Joshua Ward, Arnea Williams, Rhonda Wolverton, and Amy Beth Wright. The public can get an advance look at the exhibition and meet the artists during an opening reception from 6 – 9 p.m., April 4.
Maria Granato Sharon, a Master of Arts candidate in art history, is coordinating the MFA exhibition. She said student artists gain valuable experience as they collaborate with the Blaffer's staff in the installation and placement of their works, and ultimately learn how professional exhibitions are organized.
"A show like this is also important because it allows them to present works that are truly representative of their talents," she said. "The art presented in the MFA Exhibition is the culmination of their three years as graduate students. They share what they've learned over this time, and audiences can get a preview of what to expect from these artists in the future."
 Complementing these graduate works are those in the annual School of Art Exhibition. The show features works selected by School of Art faculty in consultation with student artists. More than 100 UH artists will present works during this exhibition. The exhibition has long served as a way to introduce rising artists to local patrons and provides students with the experience of presenting works in a professional museum. An opening reception will run 6 – 9 p.m., April 25.
Artists in both exhibitions represent the five departments in the School of Art: Graphic Communications, Interdisciplinary Practice/Emerging Forms, Painting, Photography/Digital Media and Sculpture.
"We've been teaching emerging artists for the city of Houston and the world for decades," said Rex Koontz, director of UH's School of Art. "It is important that our students have their work framed by the Blaffer, a major contemporary art space.  In addition to the Blaffer, many of these students soon will be in alternative spaces and galleries around the city and beyond. In fact, a number of recent grads already are presenting shows in Austin, Dallas, New York and elsewhere. These two exhibitions, however, are particularly special because they offer Houstonians a chance to see the talent being produced here at UH."
---