The character Lt. Uhura (played by Nichelle Nichols) on  "Star Trek" was likely the first woman of color to venture into space on a television series. Her presence on the fictional bridge of the U.S.S. Enterprise inspired countless viewers. Among those was Mae Jemison, who watched Uhura and dreamed of visiting the stars. Years later, Jemison would get her wish and become the first African-American woman astronaut.
 Houstonians soon will have an opportunity to hear Jemison's story when she delivers the University of Houston's 2013 Elizabeth D. Rockwell Lecture on Ethics and Leadership on Nov.7. This free event begins at 7 p.m. in UH's Cullen Performance Hall (Entrance 1 off Calhoun Road). While the event is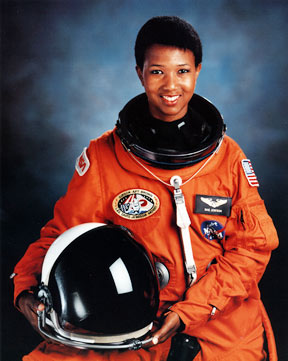 free, attendees must RSVP online.
Jemison blasted into orbit aboard Space Shuttle Endeavour on September 12, 1992. A physician, she served as an astronaut for six years and was a science mission specialist conducting experiments in life sciences and material sciences. She also was a co-investigator of the bone cell research experiment.
Prior to joining NASA in 1987, Jemison was a general practitioner in Los Angeles. She then spent time as a Peace Corps medical officer for Sierra Leone and Liberia in West Africa.
In 1993, Jemison founded The Jemison Group, Inc., which focuses on the beneficial integration of science and technology into our everyday lives. Company projects include providing consultation on the design and implementation of solar thermal electricity generation systems for developing countries and the use of satellite-based telecommunications to facilitate health care delivery in West Africa.
Born in Decatur, Ala. and raised in Chicago, she entered Stanford University at the age of 16 on a scholarship. She graduated with a Bachelor of Science degree in chemical engineering and fulfilled the requirements for a Bachelor of Arts in African and Afro-American studies. She earned her doctorate in medicine at Cornell University Medical College. Jemison was elected into the National Academy of Sciences Institute of Medicine in 2001. She serves on the Board of Directors for Scholastic, Inc. and the Texas Governor's State Council for Science and BioTechnology Development.
The Elizabeth D. Rockwell Lecture on Ethics and Leadership was created in 2004 to honor its namesake, a longtime UH benefactor. Rockwell created the series to as a way to bring a focus on ethics to the community, and as a means of bringing nationally prominent guest speakers to campus. Since its creation, the series has included many speakers of national prominence, including astrophysicist Neil deGrasse Tyson (2011), founder and director of Global Viral Forecasting Initiative Nathan Wolfe (2010), author and Pulitzer Prize winner Thomas L. Friedman (2008), former director of National Human Genome Research Institute Francis Collins and senior editor of The New Atlantis Christine Rosen (2008) and former presidential adviser David Gergen (2006). To learn more about Rockwell and the lecture series, visit this
site
.
---