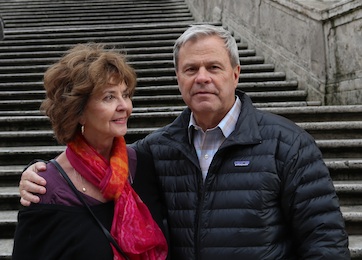 Countless Houstonians learned to dance under the tutelage of late dance instructor and choreographer Patsy Swayze. Among those were her movie star son Patrick Swayze, Broadway legend Tommy Tune and Emmy Award-winning choreographer Debbie Allen.
University of Houston alumna Judy Jones also learned from Swayze and treasured her lessons in performance, poise and professionalism. Jones worked for Swayze at her private studio and studied under her at the University of Houston. Although her former mentor recently passed away, Jones is keeping Swayze's memory and passion for dance alive at UH.
Judy and her husband, Walter, launched the Patsy Swayze Scholarship Endowment at the UH School of Theatre and Dance. The initial gift of $25,000 created the endowment. Following the recent death of Swayze, they contributed additional funds to support this scholarship for UH dance students.
Judy first met Swayze in 1959 en route to the Miss Texas pageant. The Houston Jaycees hired Swayze to choreograph a number for Jones. Swayze took the job but had foot surgery soon after the training began. Still, she worked with Jones from a sofa  –  showing her the moves with her fingers.
"She was a dynamic person and could teach anything, but thank goodness she chose to teach dancing," Jones said.
Jones went on to win the talent contest during the Miss Texas pageant but did not take home the crown. Although she didn't win the Miss Texas title, Jones discovered a friend and mentor in Swayze. After the contest, Jones accepted a position working in Swayze's studio. Later, she would enroll at UH, where she took dance classes from Swayze.
"She loved the school," Jones said. "She really loved Frontier Fiesta and all of the dance events happening on campus. She poured her heart into what she did at UH. She was so energetic and so inclusive. With her, anything was possible. She made everyone feel that they could succeed."
Before meeting Swayze, however, Jones had danced professionally. Prior to earning the Miss Houston crown, she won a contest in 1958. The grand prize was a contract to perform at the Sands Hotel in Las Vegas. She performed on bills with Jerry Lewis, Dean Martin, Sammy Davis Jr. and Judy Garland (after whom Jones is named).
During her last year at UH, Jones' dance experience helped her secure a job with legendary steel guitar player Herb Remington's Beachcombers. The Hawaiian-themed troupe toured the U.S. extensively, but Jones still made time for her studies. She graduated from UH with a bachelor's degree in political science in 1962.
Following graduation, she returned to performing in Las Vegas. During her time as a performer, she secured a small part in Elvis Presley's film "Viva Las Vegas."
Jones would return to Houston in 1965 after living in Paris and began a career as a teacher for Betsy Ross Elementary School. She also reconnected with fellow Cougar – and future husband – Walter Jones. They became friends while they both were UH students. Walter Jones was part of the UH track team (under coach Johnny Morris) and studied business. He graduated with his bachelor's degree and would become a decorated officer in the U.S. Marine Corps. following two tours of duty in Vietnam. Walter Jones later earned a Master of Business Administration from St. Edward's University in Austin, Texas. He now is the CEO of WestStar Mortgage Corp. Walter was recently recognized as one of the 100 most influential mortgage executives in America.
Judy and Walter Jones now live outside of Washington, D.C., but they are as close to UH as ever. They both continue to support UH and have contributed gifts to the UH Alumni Association Annual Fund and the Cecil J. Pickett Scholarship Endowed Fund (named for Judy Jones former theater teacher).
"We made wonderful friends at UH, and the University provided us with many memories," said Judy Jones. "We get great satisfaction from giving back to UH. I am especially pleased to support this scholarship in honor of Patsy. Her lessons have stayed with me all of these years, and I am happy to share her love of dancing with others."
---