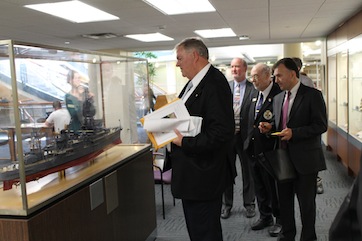 The Battle of Sunda Strait in 1942 forever strengthened the bond between Americans and Australians. It was during this epic WWII struggle that the USS Houston and HMAS Perth (operated by Australia's Royal Navy) valiantly challenged a massive Japanese naval presence occupying the Java Sea.
When the smoke cleared, both U.S. and Australian cruisers were sunk, and surviving crew members were taken as prisoners.
The memories of the USS Houston's history are preserved in an exhibition on the second floor of the University of Houston's M.D. Anderson Library. Visitors can learn about this vessel and observe selections from the library's collection of photos, letters, models and artifacts. Recently, Australian Ambassador to the United States Kim Beazley took a trip to UH to learn more about this legendary naval cruiser.
Beazley, former Australian Labor Party leader, viewed the collection and was hosted by Julie Grob, UH's special collections coordinator and Marshall Schott, UH associate vice president of university outreach.  Michelle Buhr, UH director of stewardship also was part of the welcoming committee. Also on hand to greet Beazley were retired Navy Captain Carter B. Conlin of the Naval Order of the United States and Don Kehn Jr., historian for the USS Houston Survivors Association and Next Generations.
"It's terrific to see an exhibition commemorating an event that means so much to this country and to Australia as well," Beazley said. "The university has managed to gather a marvelous number of artifacts the evoke aspects of that era…the social aspects of life before the war, the regard with which the USS Houston was held locally, the battle experience and the experiences of the prisoners. It's a very beautiful piece of social and moral history."
Accompanying Beazley were his wife Susie Annus; Nana Booker, Australian Honorary Counsul General to Houston; Mauro Kolobaric, Counsul General for the U.S. Australian Embassy and his wife Silvana Kolobaric.
"It was an honor to have Ambassador Beazley visit UH to commemorate the joint actions of Australian and American naval forces in the Java Sea," Schott said. "It also is a reflection of the significance of the city of Houston as a place of global importance and of UH's Special Collections as an important element in preserving and sharing our collective experiences during the war."
The Battle of Sunda Strait took place Feb. 28 – March 1, 1942. Each year, surviving USS Houston crew members assemble in Houston to reconnect and share memories. Among their activities is a visit to UH's exhibition of their former vessel. Their next reunion and trip to campus is scheduled for March 15.
The USS Houston exhibition remains permanently on view in the M.D. Anderson Library. Among the collected items are a flag that was made by USS Houston survivors while serving as prisoners of war, vintage Navy uniforms, paintings and a model of the ship. Materials for this exhibition were drawn from the UH Special Collections Cruiser Houston Collection, which contains more than 70 boxes of archival material. For more details on this exhibition, visit its website.  
"We were honored to host Ambassador Beazley and his guests for a tour of the USS Houston Exhibition," Grob said. "His visit was a reminder of the worldwide significance of our Cruiser Houston Collection, and the richness of the archival collections that we make available on campus for our students and visitors, and online for scholars and others around the globe."
---