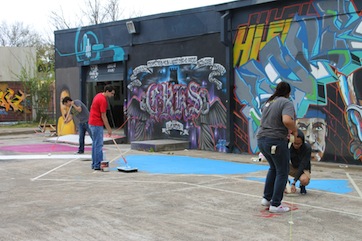 Once, the area surrounding Houston's Almeda Mall was bustling with businesses and activity. While some retail outlets and restaurants remain open, empty strip centers and vacant lots dominate the landscape.
Thanks to several Houston artists and supporters, residents of this southeast Houston community have enjoyed the colorful offerings of The Mullet. This graffiti art space at 10902 Kingspoint Road was once an unused warehouse. Now, it's a massive canvas for artists. Among the creative talents to share works at The Mullet are University of Houston architecture students.
UH architecture professor Susan Rogers' upper-level architecture studio has spent part of the semester developing installations for this art space. At 4 p.m., March 26, they'll unveil the installation work during a public reception at The Mullet. They will remain on view indefinitely.
This semester, 13 students worked on five projects to contribute to The Mullet. With a modest budget of $75 per student, students pooled their resources and utilized creativity as both project managers and designers.
Student works will include wooden modular blocks painted with graffiti that can be moved, used for seating, mixed and matched. The goal of this project, said student Norma Santos, is to inspire creativity. Jose Pedroza assisted with this particular work.
"This assignment required all of us to be as creative as possible with a small budget," Pedroza said. "We tried to make something simple that would have an impact on the space."
Other student projects include a painted pavement grid (created by Rachel Lee, Mirna Santillen and Jose Munoz)  along the graffiti-decorated Mullet walls. Included in the colored walkway are facts about autism. Another work will feature 10 signs (resembling real estate yard signs) with infographics detailing the cost of living in Houston and the city's housing market. On the back of these signs, Mullet patrons can offer details on what they feel constitutes their "dream homes." These signs were constructed and designed by Cameron Goldsmith, Isaac Villanueva and Adan Razo.
"This project offers the students an opportunity to explore how they can contribute to a suburban landscape in which there is little investment," Rogers said. "This part of Houston has a lot of disposable buildings and architecture. We're trying to respond to that and help transform this area."
Rogers' students also will complete another project focused on this area. Once they finish their Mullet installations, they will develop urban design plans for the community that neighbors The Mullet. These plans, Rogers said, are hypothetical. They can, however, inspire new visions for this part of Houston.
"We'll be conceptualizing ways to reinvigorate the area with designs that respond directly to the graffiti and art in The Mullet," Rogers said.
The efforts at The Mullet and surrounding community are just two examples of Rogers' initiatives at UH. She oversees the university's Community Design Resource Center, which addresses challenges faced by Houston communities and proposes opportunities for these areas. She also is the lead researcher with the center's Collaborative Community Design Initiative, which builds relationships between communities and experts in urban design, real estate and community development.
The Gerald D. Hines College of Architecture offers bachelor's and master's degrees in a variety of disciplines including architecture, space architecture, interior architecture and industrial design. Faculty members include esteemed professionals in the architectural community, as well as award-winning academic veterans. Facilities include studio spaces, the new Materials Research Collaborative, computer labs and the Burdette Keeland Jr. Design Exploration Center. To learn more about the college, visit http://www.arch.uh.edu/.
###
---