Changing unhealthy lifestyle habits is a challenge, one that a group of summer campers have embraced.  They'll be participating in an annual event called BOUNCE to learn about healthy living and positive attitudes.
"Research indicates one out of every three people in the U.S. struggles with obesity, particularly in the Latino and African-American populations," said Christina Luna, BOUNCE program manager. "BOUNCE not only educates on the subject of obesity, but shows young people and their parents how to lead healthy lives."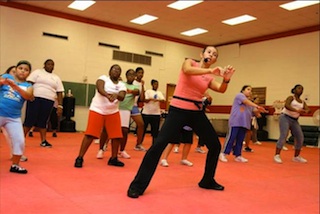 BOUNCE, Behavior Opportunities Uniting Counseling and Education, is a four-week summer camp for middle school minority girls that blends physical activities with cooking lessons, creative crafts and self-esteem sessions. The camp is planned July 8-Aug. 2 on the campus of the University of Houston.
"We have kickboxing, Zumba, swimming and dancing. We also scrapbook, make face-masks and paint, and at the end of the program have a talent show," Luna said. "Although the girls have fun, they also are learning crucial information that will lead them to live a healthier lifestyle."
All activities are facilitated by licensed dietitians, personal trainers and counselors.
Directed by Professor Norma Olvera in the College of Education, BOUNCE is a research program that focuses on nutrition, physical activity and counseling as an effort to combat childhood obesity. Parents are included and encouraged to attend a two-hour course once a week to learn about healthy recipes, exercise regimens and ways to strengthen their relationship with their daughters. There also is a 12-week follow-up session to monitor the progress of participants.
This is the eighth year of the program. To register visit
http://bounce.uh.edu/
  or call 832-842-5921. Scholarships are available.
---