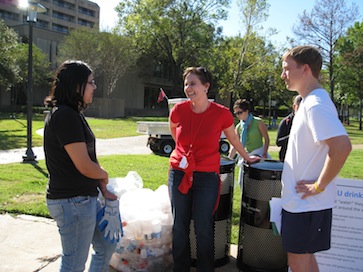 Emily Messa has long been dedicated to the University of Houston. The veteran university administrator, alumna and doctoral student proudly wears Cougar red … but she also has a green streak.
Messa, UH System associate vice chancellor/UH associate vice president for administration, has played a key role in campus beautification and sustainability initiatives. For the past three years, she's also taken her enthusiasm and energies off campus. Since 2010, Messa has served the city as a member of Houston's Clean City Commission. This month, she was reappointed as a commissioner. Her term expires in 2014.
The commission is the backbone of Keep Houston Beautiful, the city's organization tasked with promoting beautification, litter reduction and recycling education. Other members of the Clean City Commission include influential Houstonians such as FOX26 anchor Jose Grinan, noted attorney Robert W. Gibbs Jr., entrepreneur Don Poarch and architect Rey de la Reza.
"There is a lot of work to do in beautifying a city as large as Houston and community involvement in these efforts is essential," said Messa. "Through the efforts of an organization such as Keep Houston Beautiful, the commission educates communities about the importance of a clean and green city and how we all have an important role in these efforts. Commissioners also are charged with recruiting volunteers for these projects from the communities they represent. We also have ongoing conversations about important topics such as sustainability and recycling."
Since her arrival on campus in 1998, Messa has served the university in a variety of roles. Her contributions to UH include launching the university's sustainability program, which increased community participation in recycling programs and helped UH make the Princeton Review's list of greenest colleges for three years in a row. In her current role, she oversees construction, master planning, real estate and public art acquisitions at all of the UH System campuses and auxiliary services and facilities management for UH. She holds a master's degree in education from UH.
For the next year, Messa will continue to bring plenty of Cougar know-how to her role as clean city commissioner. She hopes to bridge the sustainability initiatives of the city with those on campus.
"I have an opportunity to directly represent the university during citywide clean-up efforts and the educational efforts of Keep Houston Beautiful," she said. "In this role, I am able to make connections between the good work that is ongoing at UH and national and citywide campaigns for recycling and sustainability. I am amazed by the sheer number of such projects in this city and the big hearts of the volunteers. There is a camaraderie that builds while working with a team to make Houston a greener city."
---