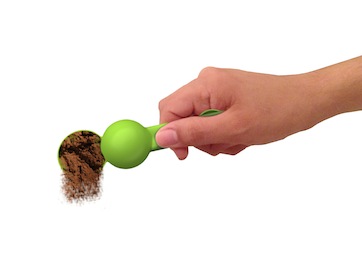 Sets of measuring spoons can be clumsy and cumbersome, so industrial designer Juan Jimenez envisioned a product that takes up less drawer space, measures more effectively and is spill resistant.
During his senior year in the University of Houston's Industrial Design program, Jimenez developed "Smart Measure," a space-efficient, sliding measuring spoon system that keeps all of its utensils together. Recently, "Smart Measure" took first place in the International Housewares Association (IHA) Student Design Contest. Jimenez will showcase this product March 2 – 5 at the International Home  + Housewares Show in Chicago.
"It's an honor to present this product at one of the biggest housewares shows in the world," said Jimenez, who graduated from UH and now works as a designer for Point Innovation in Dallas. "It almost doesn't seem real. I'm still kind of dazed by the award. I'll know it's real once I am in Chicago and showing this product at the show and talking to people about it."
Jimenez is among six other finalists in the IHA competition. As a first prize recipient, he received a cash prize of $3,000 in addition to the opportunity to present "Smart Measure" in Chicago.
In developing "Smart Measure," Jimenez spent quite a bit of time working in the kitchen. Cooking two to three meals a day, he began identifying problems and challenges with different cooking tools and utensils. Ultimately, he decided to focus his energies on creating a better measuring spoon.
During the design phase, he isolated three shortcomings to address: inaccuracy of measurements, the spoons can become disorganized or lost, and contents can easily fall or spill from the spoons.
Jimenez created a four-spoon system in which the utensils are connected into one unit as opposed to being linked together on a ring. Two spoons face each other on each side of "Smart Measure." The user can simply slide a selected spoon with his/her thumb. To avoid spilling contents, the opposing spoon can cover its counterpart. To get a more perfect measurement, the user can use the sliding spoons to scrape excess ingredients off the selected measuring spoon. "Smart Measure" remains as a single unit to avoid loose spoons getting lost or creating more clutter.
This is the second time in two years that a UH student has earned first place in the IHA Student Competition. Last year, his former classmate Mariel Piña took the top prize for a colander/bowl that she designed. The product, "Ambos," combined two tools in one for easy storage and more effective food preparation.
Jimenez credits UH's industrial design program for helping expand his analysis of contemporary housewares and for enhancing his talents as a designer.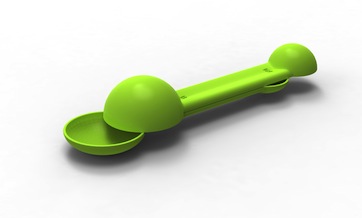 "What I learned at UH was how to turn an idea into a reality," Jimenez said. "It's one thing to come up with good ideas. I learned how to turn ideas into physical products and solve problems."
As a student at UH, Jimenez was part of a team that earned first place in the National Institute for Occupational Safety and Health's (NIOSH) "Prevention Through Design" conference in Washington, D.C. His team created a more effective extension cord called "Spinal Cord."
UH's Industrial Design program in the Gerald D. Hines College of Architecture grooms aspiring designers through a calculated curriculum program. First-year students learn design fundamentals in the classroom and the studio. During their second year, students familiarize themselves with industrial design history, materials, manufacturing methods and visual communications skills. Third-year students conduct research and apply their findings to design projects. By their fourth year in the program, students are prepared for careers through curriculum addressing diverse design issues, design ethics, business practices and strategies.
In addition to its curriculum, UH's Industrial Design program connects students with world-renowned designers through extensive workshops and special lectures. It also hosts an annual exhibition to showcase students' projects.
In addition to industrial design, the Gerald D. Hines College of Architecture offers bachelor's and master's degrees in a variety of disciplines. These include architecture, space architecture and interior architecture. Faculty members include esteemed professionals in the architectural community, as well as award-winning academic veterans. Facilities include studio spaces, the new Materials Research Collaborative, computer labs and the Burdette Keeland Jr. Design Exploration Center. To learn more about the college, visit http://www.arch.uh.edu/.
###
About the University of Houston
The University of Houston is a Carnegie-designated Tier One public research university recognized by The Princeton Review as one of the nation's best colleges for undergraduate education. UH serves the globally competitive Houston and Gulf Coast Region by providing world-class faculty, experiential learning and strategic industry partnerships. Located in the nation's fourth-largest city, UH serves more than 40,700 students in the most ethnically and culturally diverse region in the country.
---