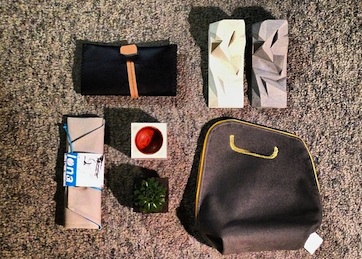 – It's that time of the year. Shoppers will be scrambling to malls or surfing the Web to find memorable holiday gifts. Starting Dec. 17, Houstonians seeking innovative items for either themselves or loved ones can venture to PH Design (2414 Rice Blvd.). There, they will find an exhibition containing unique products designed by students from the University of Houston's Gerald D. Hines College of Architecture. All items are available for purchase and will be available until they are sold out.
This semester, students in the college's Architecture and the Object course worked in teams to design functional products for everyday use. Led by Cord Bowen, adjunct assistant professor of architecture, they researched manufacturing processes, materials and production costs. Students also received design and retail insight from PH Design owners Amanda Valentine and Chris Promecene.
Teams either handcrafted their own products or worked with local manufacturers. Prices for these products range from $12 - $60. Teams created product runs ranging from 10 – 30 units.
This is the third year Bowen's students have created products that are available to local consumers. During the semester, students learned the value of the items they're designing, he said.
"Too often, designers make beautiful things but don't know what they're worth," Bowen added. "They don't understand the economics behind the items they're creating. That's why I created this project. I wanted them to walk away with a sense of how all aspects of the process works."
Products created during the semester and available at PH Design include:
Lona: This foldable canvas case can be used for pencils and art supplies. (Created by students David Saucedo, Jaqueline Ramirez and Christine Tran)
Jeune: Made of high-grade leather, this small women's wallet is big enough for a cell phone and other items. (Created by students Martha Gloria, Rodrigo Marron and Hilda Moreno)
Bowl for Nothing: Perfect for a desk, dresser, kitchen counter and just about anywhere, this wooden bowl carved into a concrete cube can easily store small items (cufflinks, business cards, cooking spices and more). (Created by Wells Barber, Andre Jauregui and David Regone)
The Waldorf: This attractive Walnut-colored wooden plank is curved inward to hold a host of items (pens, tools, jewelry and other items). (Created by Ashley Hollon, Audra Biediger and David Rodriguez)
  Coffee/Vase: On the surface, these are decorative vases perfect for plants or other items. They're actually made from bio-resin and recycled coffee grounds (obtained from local shops). (Created by Natalie Rodriguez and Shatha Abdulmajeed)
Voluminous: These ornate concrete bookends/paperweights can be purchased separately and are available in gray, brick and white (for mixing and matching). (Created by Aysha Rana and Robert Mazzo)
Bentote: This unisex zip-up tote bag can carry small tablets, phones and other objects for those on the go. (Created by Kongci Chan, Gift Taout and Patti Lee)
Jaunt: This leather unisex wallet can hold passports and other important items when travelling or for everyday use. (Created by Andrew O'Toole, James Andras and Shalini Moodley)
To view images of all these products, visit the Architecture and the Object Flickr site.
 "Throughout the semester, I consistently asked students, 'What is selling? What is working?' I wanted them to shape their designs using these questions. Based on the final products, it appears that they did just that."
UH's Gerald D. Hines College of Architecture offers bachelor's and master's degrees in a variety of disciplines. These include architecture, space architecture and interior architecture. Faculty members include esteemed professionals in the architectural community, as well as award-winning academic veterans. Facilities include studio spaces, the new Materials Research Collaborative, computer labs and the Burdette Keeland Jr. Design Exploration Center. To learn more about the college, visit http://www.arch.uh.edu/.
---