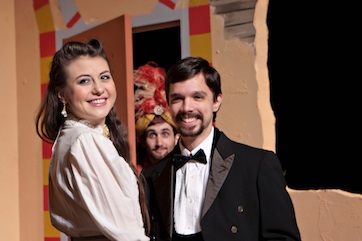 Audiences have long applauded the passionate performances delivered by the University of Houston's School of Theatre & Dance. From classics to contemporary works, UH's creative minds keep Houstonians coming back for more.
The school's recent performance season concluded this month, but the ovations continue. For the second year in a row, the UH School of Theatre & Dance has been named "Best College Theater" in the Houston Press' Theater Awards. Faculty and students will accept this honor during the official awards ceremony Aug. 26 at Phoenicia MKT Bar (located in downtown Houston).
In its summary of the school's strengths, the Houston Press lauded its recent season that included Bertolt Brecht's anti-war epic "Mother Courage and Her Children," Georges Feydeau's classic farce "Paradise Hotel," Caryl Churchill's stock market satire "Serious Money," and the Houston Shakespeare Festival ("As You Like It," "Antony and Cleopatra").
"The award is well earned for distinguished successes, for providing a wealth of theatrical variety and for gracing the Houston theater scene with the UH theater department's towering presence," wrote the Houston Press staff in its awards round-up.
The Houston Press Theater Awards compile the best of the best in the city's stage scene. Winners are selected by the publication's critics and reporters. They are listed online and in this week's print edition of the Houston Press.
"It's an honor to have Houston Press acknowledge our school's focus on pushing students into a variety of styles and genres," said Jim Johnson, director of the School of Theatre & Dance. "It's our job to provide the next generation of stage professionals, and we're doing everything we can to live up to that. "
UH professor Kevin Rigdon also earned honors for "Best Set Design" for his contributions to the Alley Theatre's "Clybourne Park." Runners up included UH alum Benjamin Reed in the "Best Actor" category for his role as Orlando in the Houston Shakespeare Festival's "As You Like It" and UH visiting director Gus Kaikkkonen for his work on "Paradise Hotel."
For its upcoming season, UH's School of Theatre & Dance will present George Farquhar's "The Beaux Stratagem" (Oct. 4 – 13), Federico García Lorca's "Blood Wedding" (Oct. 25 – Nov. 3),  Timberlake Wertenbaker's "Our Country's Good" (Feb. 21 – March 2) and Phillip Barry's "The Philadelphia Story" (April 18 – 27).
The UH School of Theatre & Dance produces pre-professional plays, dance concerts, studio productions, a new play festival and school shows through the Theatre for Young Audiences program. The school performs in the Wortham Theatre and the Quintero Theatre. The Houston Shakespeare Festival is a professional project of the school, which is produced each summer at Miller Outdoor Theatre. The UH School of Theatre & Dance offers bachelor's and master's degrees in theater and teacher certifications in dance and theatre. Its graduate program consists of a master of arts in theatre and master of fine arts in theatre with specializations in acting and design.  Alumni include actors Dennis Quad, Jim Parsons, Cindy Pickett, Brett Cullen and Robert Wuhl. Faculty includes Tony Award-winning producer Stuart Ostrow and Tony-nominated designer Kevin Rigdon. Among the greats who have taught at the school in previous years are Lanford Wilson, Sir Peter Hall and Jose Quintero. In 2012, the school was named "Best College Theater" in the Houston Press Theater Awards. For details on UH's School of Theatre & Dance, visit www.theatredance.uh.edu.
---