The area surrounding Houston's Almeda Mall (12200 Gulf Freeway) once bustled with popular shopping outlets. The mall remains open, but it is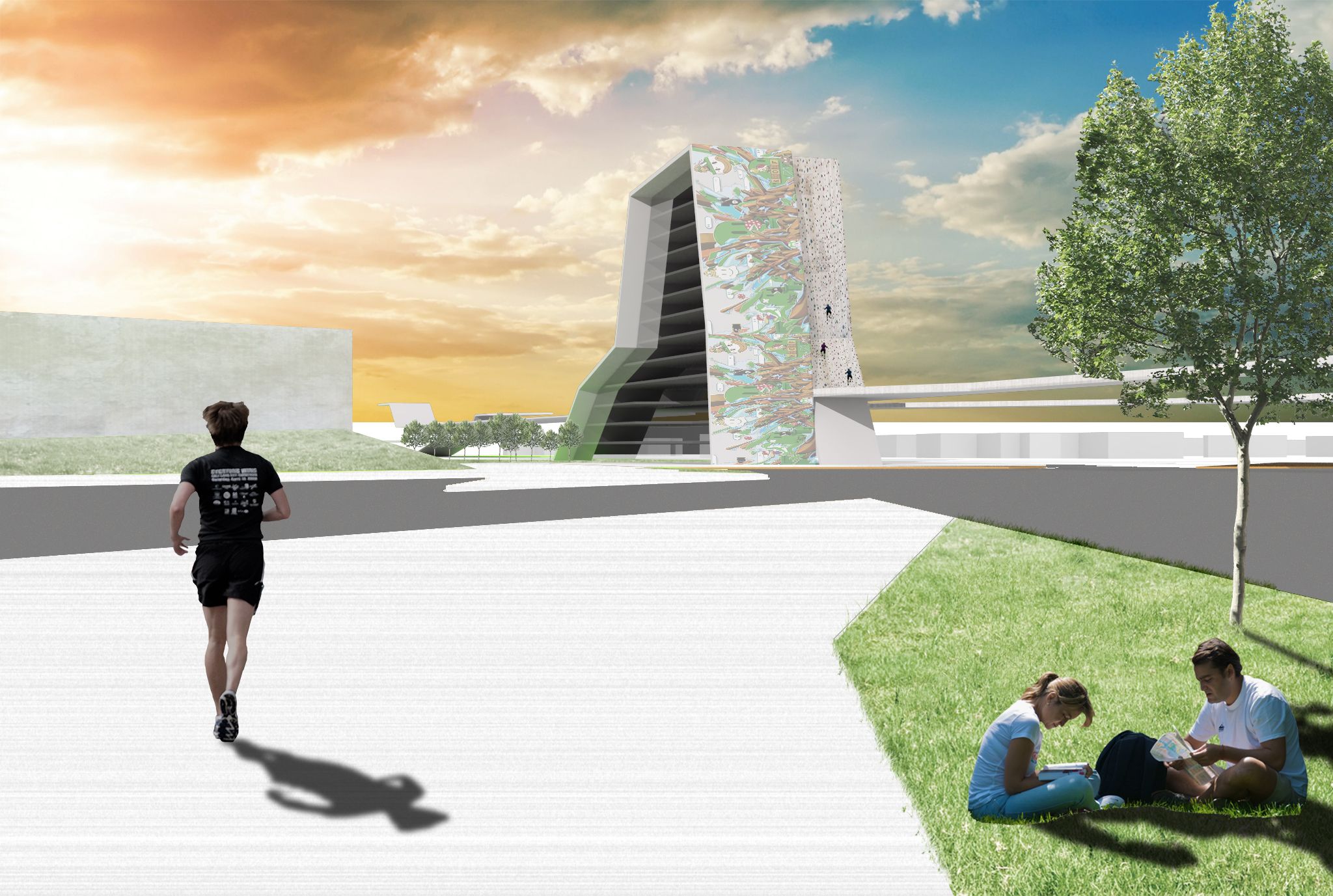 surrounded by shuttered storefronts and empty parking lots.
Leave it to the optimistic minds at the University of Houston's Gerald D. Hines College of Architecture to envision a fresh start for this section of the city.
Led by professor Susan Rogers, fourth- and fifth-year undergraduate students have visited the area extensively and are finishing up projects that propose new community amenities and designs.
"Students have to develop a strategy for this site, as well as programming. They must then connect them through an architectural project," Rogers said. "In this area, most of the public space is inside the Almeda Mall. So, many students are trying to create exterior public spaces that create a sense of possibility and opportunity."
Located in a southeastern section of Houston (in between Almeda Genoa Road and Fuqua Street), Almeda Mall was once flanked by popular stores such as Target and Circuit City among others. Those businesses closed leaving wide gaps in the area's infrastructure.
Rogers' students imagined a range of possibilities for the formerly thriving area of the city.  These include fourth year architecture student Kongci Chan's design that proposes a series of elevated bridges and -walking pathways connecting nearby residents with new green spaces. Another student, Jose Pedroza, took inspiration from similar neighborhoods in South America, Asia and Europe. He developed a mesh of walkways surrounding residential towers. Classmate Isaac Villanueva also envisioned additional green spaces and incorporated pocket parks that include amenities such as a skate park, rock climbing wall, graffiti wall, community garden and outdoor theater.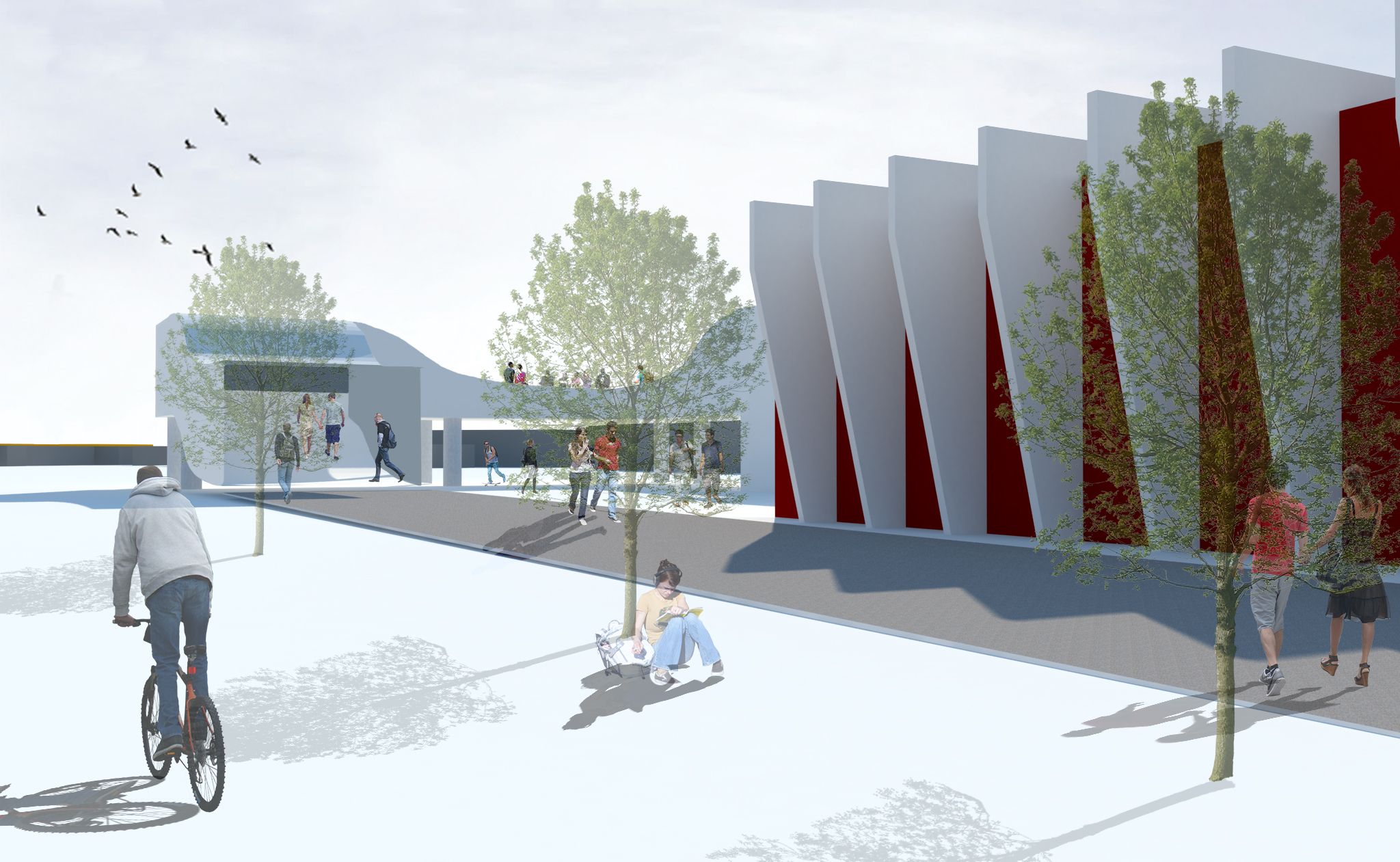 "This project isn't about just the site. It's about a community," Villanueva said. "This is my first project designing something for an urban setting. It's helped me become more aware of the scale of a project. It's a big task."
Rogers' class spent much time around the Almeda Mall area. They observed its urban landscape for this particular project and also worked on installations for nearby art space The Mullet (10902 Kingspoint Rd.).
Some students were inspired by their time surrounded by The Mullet's graffiti works and implemented more art spaces in their projects.
Michael Roeder, fifth-year architecture student, was determined to connect graffiti art with the community. His design incorporated residential spaces and a school near studios and public creative areas.
"I'm trying to show people that graffiti is art," he said. "I want to bring this art form closer to people and their everyday environment."
Each semester, Rogers engages her students in projects aimed at facilitating positive change in Houston communities. Previous student projects have included developing practical concepts for Houston's easements, bus stops and ditches. Her students also have created designs for waterfront property in Baytown, Texas, and presented them to the city's leaders.
Rogers oversees the university's Community Design Resource Center, which addresses challenges faced by Houston communities and proposes opportunities for these areas. She also is the lead researcher with the center's Collaborative Community Design Initiative, which builds relationships between communities and experts in urban design, real estate and community development.
The Gerald D. Hines College of Architecture offers bachelor's and master's degrees in a variety of disciplines including architecture, space architecture, interior architecture and industrial design. Faculty members include esteemed professionals in the architectural community, as well as award-winning academic veterans. Facilities include studio spaces, the new Materials Research Collaborative, computer labs and the Burdette Keeland Jr. Design Exploration Center. To learn more about the college, visit http://www.arch.uh.edu/.
###
---