Houston's High School for the Performing and Visual Arts (HSPVA) has been shaping creative minds for more than 40 years. Its current campus (4001 Stanford St.) is tailored to teach students a variety of disciplines, but the school is scheduled to move to a bigger and better downtown facility.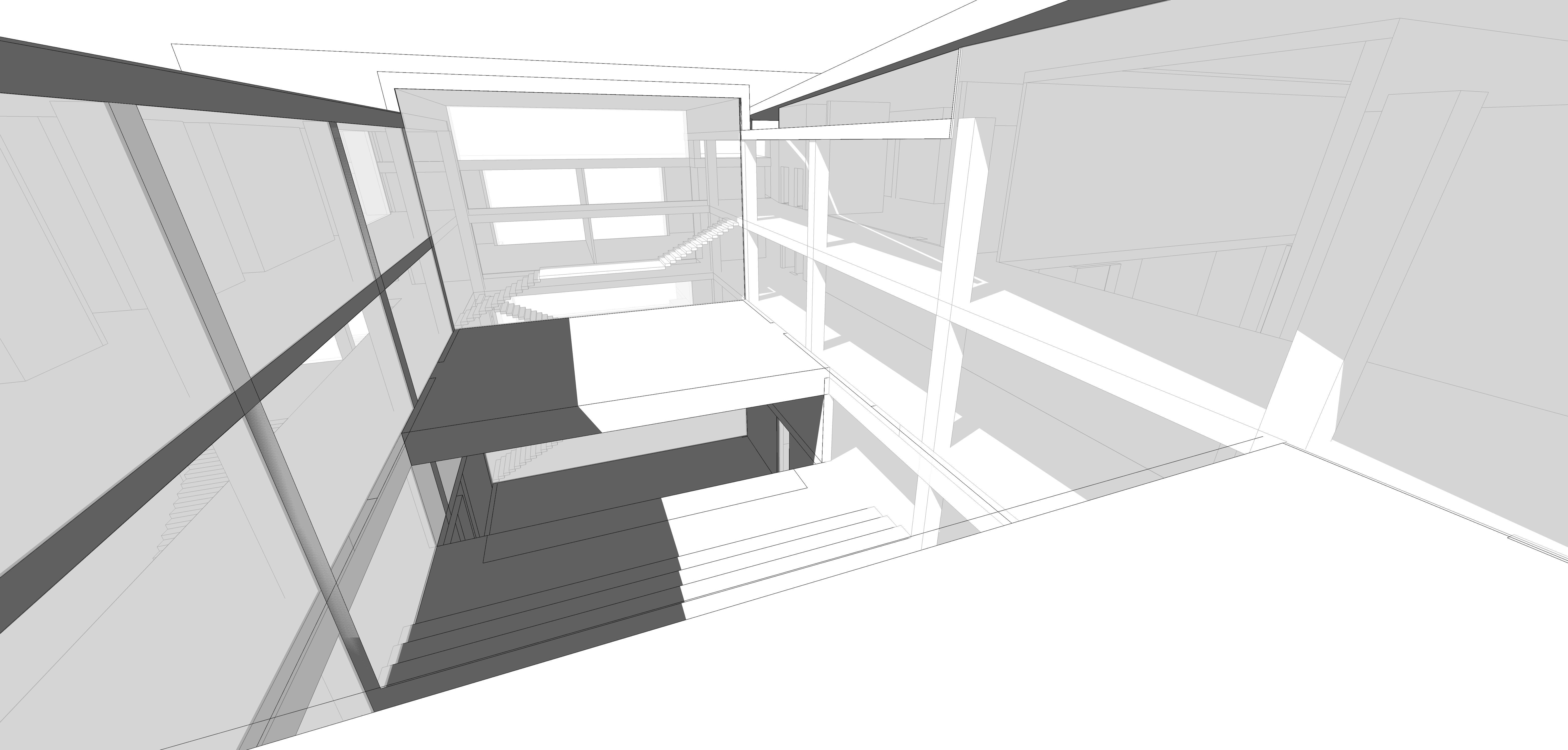 The future campus will be located at 1300 Capitol Ave. It's still in the planning stages, but 13 University of Houston architecture students are developing designs that may inspire inventive new directions for HSPVA's new home.
Led by architecture professor Patrick Peters, these students have consulted with HSPVA administrators, faculty and students. They also have met with architects and consultants – including former UH professor and noted architect Barry Moore, who had a hand in designing HSPVA's current campus. They also have toured the current HSPVA campus and Booker T. Washington HSPVA in Dallas.
HSPVA offers instruction on creative writing, music, dance, visual arts and theater. The new campus would be a five-story facility with studios, rooms and performance spaces to accommodate these disciplines. It also would require spaces for its academic programs.
Preliminary drafts have been shared with constituents, and final designs will be presented to members of the HSPVA and downtown communities on April 25 at UH's Gerald D. Hines College of Architecture. In May, HSPVA will host an exhibition showcasing these designs.
The project has the potential to impact the architectural direction of HSPVA's future campus. It also offers UH students the rich experience of applying their talents to a real-world facility and collaborating with actual clients.
"My teaching philosophy relies on students being confronted with a project's specific and real constraints," Peters said. "It's parallel to working in the architecture profession and motivates students to deliver their most creative work."
This project brings out the best in students, but it's also challenging, said fifth year architecture student Melanie Arenas. Still, she appreciates the rigors of working on designs for a specific site and working within the constraints of a budget and various building and city codes.
"It's been a much more intricate project than I'm used to," she said. "I am about to graduate, and it's great to end with this project. Also, I'm very interested in seeing whether any of our designs are taken into consideration for the future campus."
Arenas created a three-dimensional model that details her vision for the downtown HSPVA facility. She took inspiration from the area's consistent growth and tied in downtown's arts, historical and business districts to her design.
"I looked at the campus as a possible bridge between these districts. They all tie into the school," she said. "The design I came up with positions the school's performance spaces on the edges of the campus. They would comprise the skin of the school while the classrooms and commons area would be centralized within the campus. It's a way of projecting the school's talents to downtown."
A smart design is important but so is working with clients. Learning from clients and accommodating their needs has been one of the most educational aspects of this project, said fifth-year architecture student Longinos Gutierrez.
Gutierrez previously worked and taught for Houston Independent School District but was unfamiliar with HSPVA and its specialized arts training. As he tailors his design to clients' requests, he's learning about the school's requirements for its creative areas of study.
"Having an understanding of meeting clients needs is very important," he said. "Dancers need the right kind of floor and a ceiling to be a certain height. Sculptors want north light. A lot of these things are taken for granted, but they make a big difference."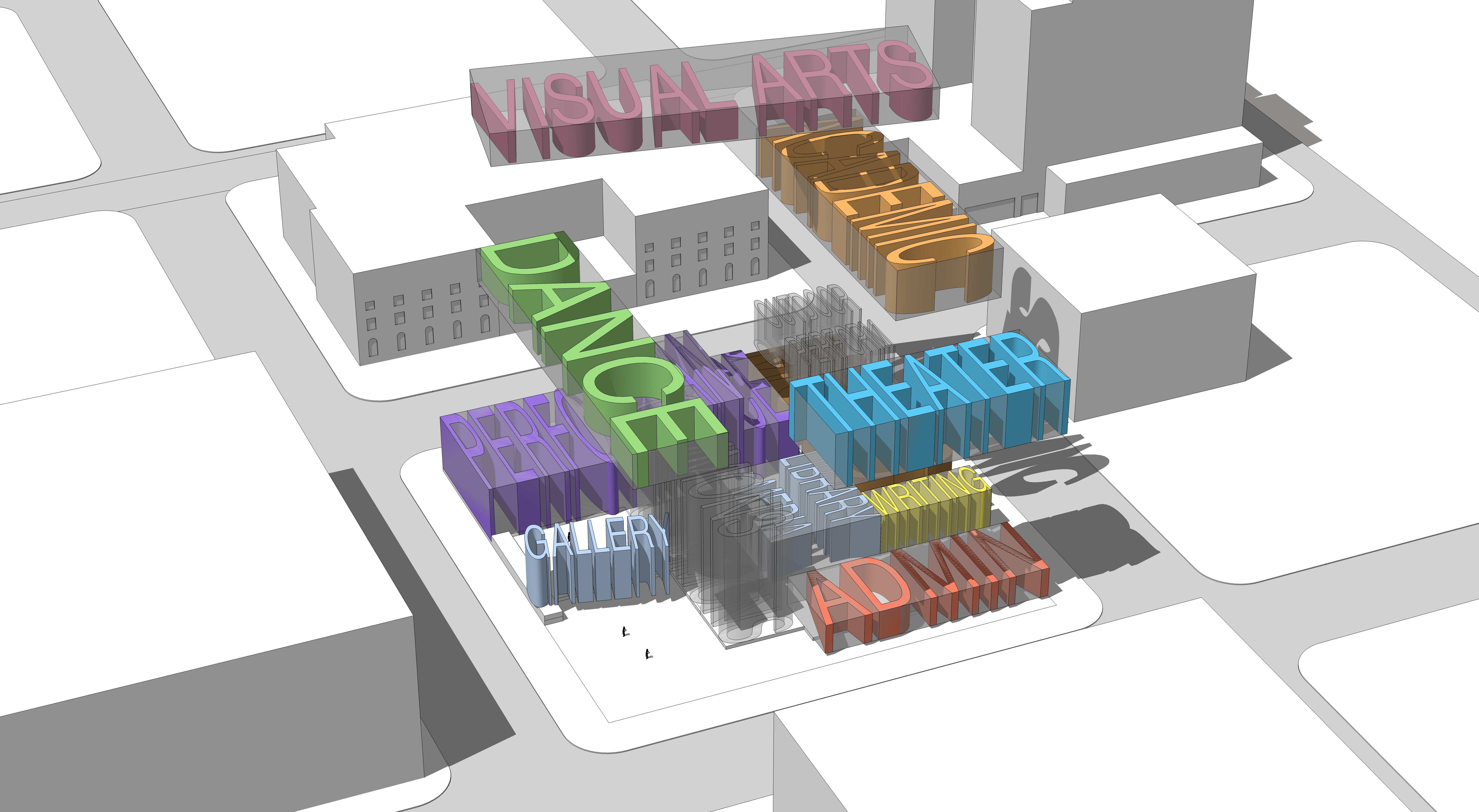 HSPVA is part of Houston Independent School District. It was founded in 1971 and has been located at its current location (4001 Stanford St.) since 1982.
"Our work with Patrick Peters and the University of Houston architecture students has sparked real conversations about the planning and design of the new High School for the Performing and Visual Arts," said Robert Scott Allen, HSPVA principal. "When we first began the collaboration, I thought the project would be a great experience for the students involved.  What I have realized is that the process has stimulated the whole idea of what the new HSPVA facility will look like and how our future students will benefit from the downtown campus."
UH's Gerald D. Hines College of Architecture offers bachelor's and master's degrees in a variety of disciplines. These include industrial design, architecture, space architecture and interior architecture. Faculty members include esteemed professionals in the architectural community, as well as award-winning academic veterans. Facilities include studio spaces, the new Materials Research Collaborative, computer labs and the Burdette Keeland Jr. Design Exploration Center. To learn more about the college, visit http://www.arch.uh.edu/.
---