As a young clinical social worker, Danielle Parrish, an assistant professor at the University of Houston (UH) Graduate College of Social Work (GCSW), frequently noticed that at least a third of the girls were visibly pregnant on the girl's unit in a juvenile detention center.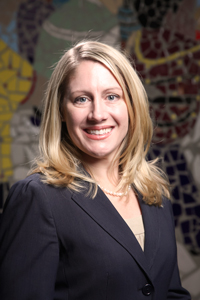 "As a mental health clinician in the juvenile justice system, I noticed there were stark differences in terms of what the females needed in their program and what the males needed. They are dealing with very different kinds of risks," said Parrish. "I would find the females were engaging in multiple risk behaviors simultaneously - using drugs, drinking, smoking - even while pregnant - and seemed to participate more frequently in high-risk sex behaviors that put them at risk of pregnancy and STDs, including HIV. When I looked to the research, I found very limited information on gender-specific interventions for adolescent females in the juvenile justice system that addressed these unique risks."
Parrish plans to research this understudied population as principle investigator for a $100,000 grant funded by the National Institutes of Health (NIH), titled, "Choices – Teen: A Bundled Risk Reduction Intervention for Juvenile Justice Females." The pilot study includes 30 at-risk girls, ages 14-17, on intensive probation with the Harris County Juvenile Probation Department. The goal of the pilot study is to assess the feasibility and promise of a prevention intervention in reducing risk behaviors that lead to HIV, alcohol-exposed pregnancy and nicotine-exposed pregnancy with this high-risk female population. This intervention, unlike others that typically focus on one risk behavior at a time, takes a bundled approach to risk reduction and addresses multiple risks simultaneously. If effective, this approach would be more cost-efficient than multiple interventions targeting these risks, and make better use of the limited time these girls present for services. The intervention includes two counseling sessions with a prevention counselor trained in motivational interviewing (MI), an appointment with a pediatrician and a referral for an evidence-based smoking cessation intervention.
"Dr. Parrish's research and grant award emphasize both the need for and importance of innovative approaches to problem-solving, especially when working with high-risk youth, in particular young women in the juvenile justice system," said Ira Colby, dean of the UH GCSW. "This award aligns with the UH Graduate College of Social Work's mission and specifically connects advanced social work practice and research with the broader social services community."
Parrish notes one of the big issues for this population of adolescent girls is condom negotiation. They may have a boyfriend who says it isn't "cool" to use a condom. To prepare the girls for these types of situations, the counselors and pediatricians will teach them how to negotiate condom use with their partner. The intervention also helps empower and motivate girls to make healthier choices regarding their alcohol use, smoking and prevention of unplanned pregnancy.
The intervention is based on CHOICES, a prevention intervention, developed by Mary Velasquez, an associate dean of research and director at the Health Behavior Research and Training Institute (HBRT) at the University of Texas at Austin. It focuses on initial behavior change as well as the maintenance of behavior over time. By using motivational interviewing techniques focused on changing specific behaviors, this intervention helps women choose safer, healthier strategies best suited to their circumstances. Velasquez's research (and that of her colleagues) was recognized by the Center for Disease Control (CDC) with the Charles C. Shepard Science Award.
"Dr. Parrish's study extends an award-winning behavior intervention for reducing alcohol-exposed pregnancies to the juvenile justice population," said Velasquez. "Its emphasis on HIV prevention is innovative and critically important for these young women."
The results of the study may be useful to guide further research in the development of gender-specific prevention interventions with adolescent girls in the juvenile justice system. This pilot study will help lay the groundwork for a much larger study and future studies to better understand this population in terms of their unique risks and how they can best be supported on an individual level, as well as what can be done at the community and policy levels to address the lack of services and supports for this vulnerable and largely invisible population.
"A lot of these young women are dealing with issues of human trafficking, abuse, health issues, not having a stable place to live- there are a lot of issues we also need to address on a community and policy level," said Parrish. "If we can learn more about them, and what those issues are, then maybe we can address things on a broader level as well."
# # # 
About the UH Graduate College of Social Work
The UH Graduate College of Social Work (GCSW) is a nationally recognized program, ranked 37 by U.S. News & World Report, educating professionals for social work practice, research and leadership. Offering MSW and PhD degrees, the GCSW is the only social work program in the world to have a Nobel laureate on its faculty. The GCSW advocates for innovative, collaborative, inclusive and humane policies and solutions that promote social, economic and political justice. A commitment to critical thinking that links rigorous scientific inquiry, ethical social work practice and community engagement generates new knowledge to the field of social work and many other disciplines.
About the University of Houston
The University of Houston is a Carnegie-designated Tier One public research university recognized by The Princeton Review as one of the nation's best colleges for undergraduate education. UH serves the globally competitive Houston and Gulf Coast Region by providing world-class faculty, experiential learning and strategic industry partnerships. Located in the nation's fourth-largest city, UH serves more than 39,500 students in the most ethnically and culturally diverse region in the country. 
---