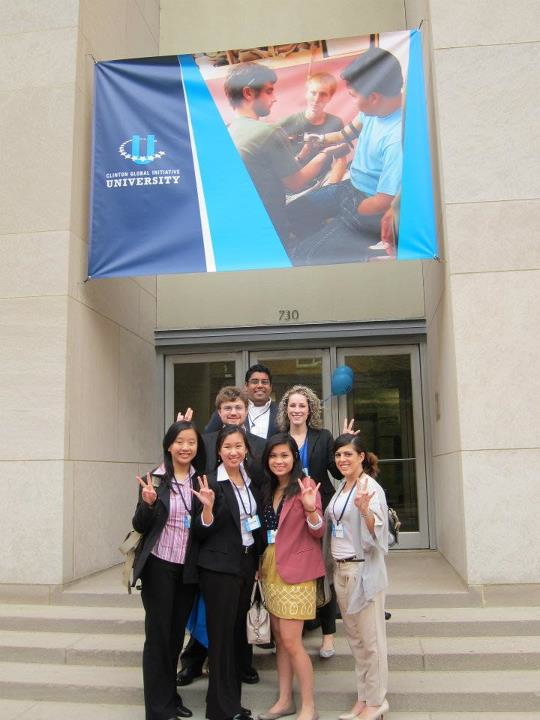 Each spring, world leaders, the brightest minds in business and some of the most philanthropic people on Earth join students and national youth organizations at the Clinton Global Initiative University (CGI U) to address the world's most pressing problems. Eleven students from the University of Houston were among the attendees in 2012— the first UH delegation to attend since the conference began in 2007. Lead by former President Bill Clinton, CGI U connects people and inspires them to tackle global problems with innovative solutions.
"If University of Houston students have ideas or thoughts about our society or things they want to improve, UH wants to provide for them an opportunity to engage in that dialogue with the people who are the movers and shakers, the people who are trying to make things happen," said Jason Bergeron, director of the Center for Leadership and Fraternity & Sorority Life at UH.
As part of the application process to CGI U, each student was required to make a "Commitment to Action" to improve the world in one of five areas: education, environment and climate change, peace and human rights, poverty alleviation, and public health.
For UH senior biology major Cecilia Cai, choosing her commitment to CGI U was easy. Having moved to the United States from China 10 years ago, she volunteers her time with the Partnership for Advancement and Immersion of Refugees (PAIR).  Her commitment involves volunteering in a summer program for refugee youth. During the CGI U conference, she connected with other young people who are involved in similar programs
"I was just mind-blown," said Cai. "I was able to meet students from all over the world— Hong Kong, Africa and India— it's just amazing to see global citizens coming together and making an impact on the Earth."
The CGI U sessions were led by President Clinton and included everyone from former Secretary of State Madeleine Albright to Craigslist founder Craig Newmark to the Daily Show's Jon Stewart. 
"The whole week was filled with hope and inspiration," said Ayesha Khan, a biomedicine Ph.D. student at UH. "You see so many young people there with ideas, and they are doing something about it."
Khan is working on building an educational nonprofit media and social network campaign to advance gender equality and empower girls and young women in her home country of Pakistan.
"I was inspired and motivated even more," said Khan. "So many people have started from scratch and achieved their goals."
Any student from UH could apply for the conference, and those who attended included students from across disciplines and colleges, ranging from first-year to Ph.D. students.
"It's really our hope we can continue to connect students who are passionate about these sorts of issues with people who have the know-how and the financial resources to help make that vision a reality," said Bergeron. "We hope that students will continue to apply next year. I think students will tell you it was a life-changing and amazing opportunity."
Cai and Khan couldn't agree more.
"We heard so many examples of student organizations that started out as an idea but made such a big impact," said Cai. "It was just so amazing they were able to have that determination and motivation to do it, and give us hope we can also do it. We can make a difference in this world."
2012 University of Houston Clinton Global Initiative University Students:
Maria Ivanez Class Standing: Sophomore
 Major: Political Science
 Commitment Title: The Participa Initiative
 Commitment Focus Area: Education
Maureen Haver
Class Standing: Junior
Major: Anthropology
Commitment Title: Global Empax (Empathy Empowering Peace)
Commitment Focus Area: Peace and Human Rights   Vivian Hernandez Class Standing: Sophomore
 Major: Journalism
 Commitment Title: S.P.E.A.K (Students Protecting Exploited Adults and Kids)
 Commitment Focus Area: Peace & Human Rights   Ayesha Kahn Class Standing: Graduate Student
 Major: Biomedicine
 Commitment Title: Meri Khwaish (My Wish)
 Commitment Focus Area: Education   Ambreen Rahman Class Standing: Senior
 Major: Biology
 Commitment Title: Domestic and Dating Violence Prevention in High-Risk Teenagers
 Commitment Focus Area: Public Health   Joseph Konkel Class Standing: Graduate Student
 Major: Business Administration
 Commitment Title: Bauer Social Impact (BSI)
 Commitment Focus Area: Poverty Alleviation   Daniel Pinto Class Standing: Graduate Student
 Major: Business Administration
 Commitment Title: Bauer Social Impact (BSI)
 Commitment Focus Area: Poverty Alleviation   Cecilia Cai Class Standing: Senior
 Major: Biology
 Commitment Title: PAIR Summer Fellows Program
 Commitment Focus Area: Education   Cassie Gianni Class Standing: Sophomore
 Major: Economics
 Commitment Title: PAIR Summer Fellows Program
 Commitment Focus Area: Education   Valerie Hang Class Standing: Sophomore
 Major: Education
 Commitment Title: PAIR Summer Fellows Program
 Commitment Focus Area: Education   Arielle Gutierrez Class Standing: Sophomore
 Major: Interdisciplinary
 Commitment Title: PAIR Summer Fellows Program
 Commitment Focus Area: Education
---