University of Houston professors Joe Meppelink and Andrew Vrana have developed a number of products to make the world a little greener. Recently, their solar panel mounting device, the PV-Pod, received high honors from the architecture industry's leading publication.
The PV-Pod earned a Research and Development Award from Architect, the magazine of the American Institute of Architects. The product is featured on the cover of the publication's July edition.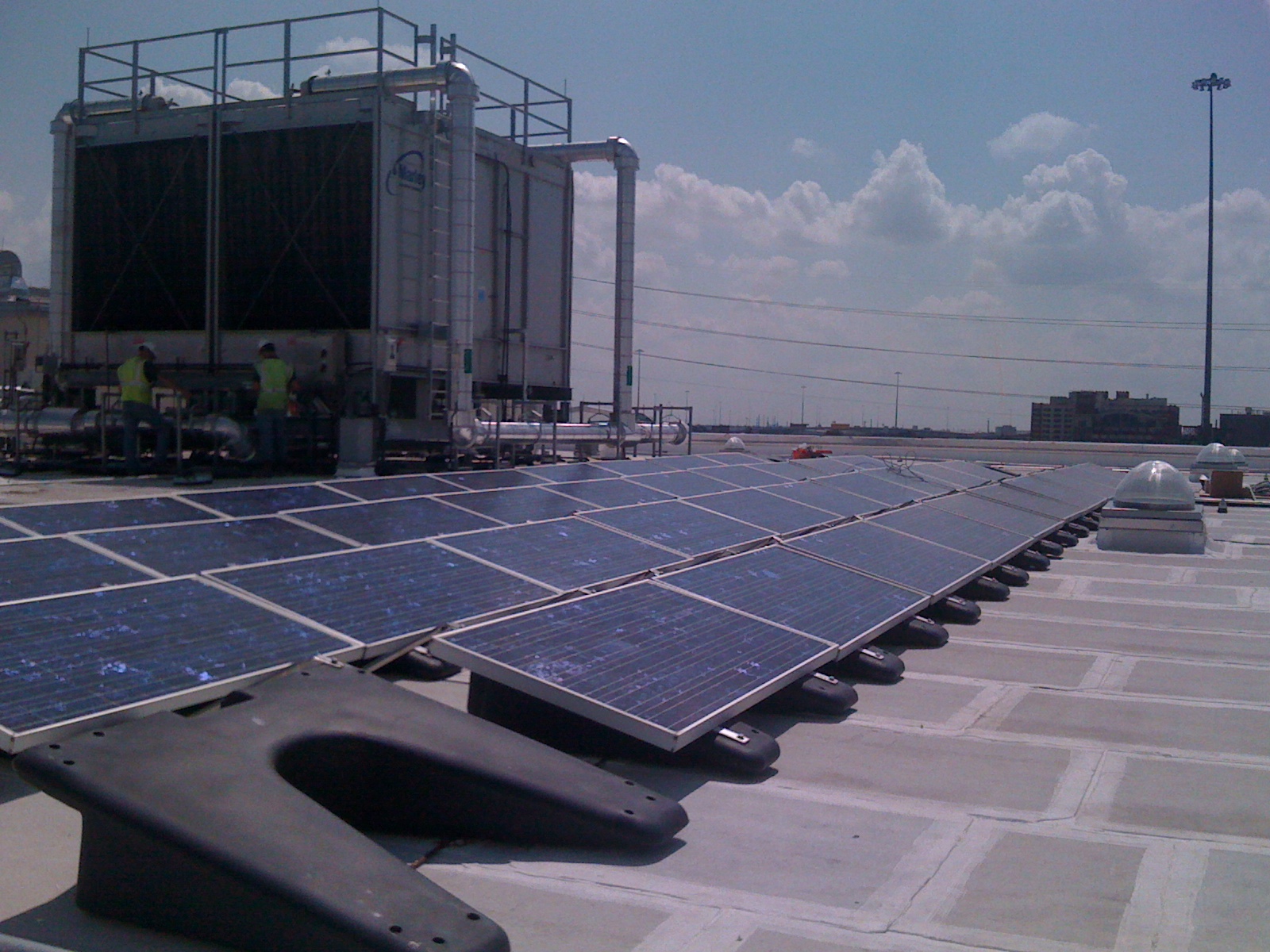 The PV-Pod offers users an effective and simple way to mount solar panels on rooftops. The actual pod is high-density polyethylene receptacle that is filled with water to provide balance and weight. Solar panels can then be attached to the pods. If a panel needs to be relocated or removed, the water can simply be drained. Once emptied, the PV-Pod can easily be moved, then refilled with water once it's repositioned.
"The roof has been designed to receive water anyway, so there are many levels of why it makes sense," said awards juror Martina Decker.
Meppelink, Vrana and research and design assistant Travis McCarra developed the PV-Pod through their company, Metalab, with applied research grant support from UH Green Building Components (UHGBC).
The first PV-Pod prototype was created in 2009. In 2011, 40 PV-Pods and solar panels were installed on the of the Houston Permitting Center at 1001 Washington Ave.
"This is a big award for us," said Meppelink, director of UH Green Building Components. "The PV-Pod is a product that can have major implications on the solar and architectural industries. We're really pleased that it is recognized by Architect magazine."
This award complements another recent honor received by Meppelink and Vrana this year. In June, their company Metalab was named "Artist of the Year" by Architecture Center Houston. An exhibition at the center showcased Meppelink and Vrana's numerous works including three that were supported by UH Green Building Components. In addition to the PV-POD, UHGBC products include
Solar Powered Adaptive Container for Everyone (SPACE) - a recycled shipping container that was transformed into solar-powered trailer
gro-POD - an elevated gardening module that allows users to grow plants and vegetables in just about any environment.
UH Green Building Components is the Gerald D. Hines College of Architecture's applied research initiative to design, develop and implement sustainable, renewable building components for the architecture, engineering and construction industries. This effort is funded by more than $1 million in grants from Houston Endowment and the Meadows Foundation for the past four years. 
The Gerald D. Hines College of Architecture offers bachelor's and master's degrees in a variety of disciplines including architecture, space architecture, interior architecture and industrial design. Faculty members include esteemed professionals in the architectural community, as well as award-winning academic veterans. Facilities include studio spaces, the new Materials Research Collaborative, computer labs and the Burdette Keeland Jr. Design Exploration Center. To learn more about the college, visit http://www.arch.uh.edu/.
###
---