The Dos Passos Prize for Literature has honored a host of celebrated authors including Graham Greene, Tom Wolfe and Annie Proulx. This year, a University of Houston professor joins the ranks of such distinguished writers.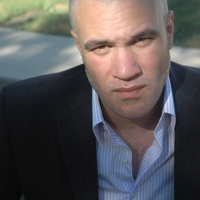 Mat Johnson, associate professor in UH's Creative Writing Program, has been named the 2011 Dos Passos Prize recipient. On Sept. 22, he will receive the award during a ceremony at Longwood University in Farmville, Va.
Named for author John Dos Passos, the award honors American authors whose mid-career works focus on American themes and the human experience, while embracing an experimental approach to literary form. The award has been presented annually since 1980 by Longwood University's department of English and Modern Languages.
 "I feel very fortunate, and deeply thankful to receive this recognition for my work," Johnson said. "John Dos Passos was a great author who has moved so many, and to be added to the list of the accomplished authors who have won this award is a great honor."
Johnson's body of work includes graphic novels "Hellblazer: Papa Midnite" (2005), "Incognegro" (2007) and "Dark Rain" (2010) for Vertigo, an imprint of DC Comics. He also has written novels "Drop" (2000) and "Hunting in Harlem" (2003), as well as a non-fiction work "The Great Negro Plot" (all for Bloomsbury USA). His most recent novel "Pym" (Spiegel and Grau) was released earlier this year to critical acclaim.
The New York Times applauded "Pym" for being "relentlessly entertaining, and the Austin American Statesman referred to the novel as a "magical spell."
At UH, Johnson oversees the Graphic Novel Workshop, which teaches students how to create illustrated narratives and offers insight on the medium's history.
"We are honored to recognize Mat Johnson for his many significant contributions to American literature," said David Magill, assistant professor of English at Longwood and chair of this year's Dos Passos committee. "Few writers are as provocative, yet entertaining, when it comes to addressing the history and present state of racial identity and of race relations in the United States."
As part of UH's English department, the Creative Writing Program offers poets, fiction writers and non-fiction writers intensive training in both creative writing and literary studies. It offers two graduate degrees: the Master of Fine Arts and Doctor of Philosophy. CWP's noted faculty includes award-winning authors and poets such as Johnson, novelist Antonya Nelson, poet and non-fiction writer Nick Flynn and poet Tony Hoagland. To learn more about the program, visit www.class.uh.edu/cwp/.
---