The University of Houston's Moores Concert Chorale is getting ready to cross the pond for its second international appearance. From May 27 - 29, the chorale will perform at the exclusive festival and competition Florilège Vocal de Tours in Tours, France. Among the items being packed for this important trip is one of the latest compositions written by friend and mentor David Ashley White.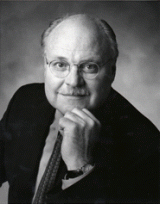 White, director of UH's Moores School of Music, composed "I Cannot Live With You" specifically for this event. It will have its world premiere during the competition's qualifying round on May 27.
The piece is a setting of an Emily Dickinson poem. White describes his work as dark and edgy but feels that it is perfectly suited for the charismatic voices of the chorale.
"Our singers have no limitations," he said. "They can perform any kind of piece that's placed in front of them. When I composed this piece, I felt that I had a clean slate. I was able to do whatever I wanted to and know that the chorale would deliver a precise yet passionate performance."
"I Cannot Live With You" is part of a larger two-movement piece titled "The Door Ajar." White initially submitted the entire work to the Chorale. Due to the time constraints of the competition, only one movement will be sung at the competition, with the entire piece performed later this year at the Moores School.
 "The vast majority of David's music uses sacred texts, and I was hoping for something secular...something romantic and gritty," said Betsy Cook Weber, director of the Moores Concert Chorale. "I found exactly what I wanted in this poem by Emily Dickinson. His setting of this wonderful text is everything I had hoped for. Like the words, the music is passionate and searing, and I believe that it will come to be regarded as one of his best works."
European audiences aren't strangers to White or his music. He writes approximately 12 sacred and secular works a year. These are performed across the globe and are featured on albums such as "Echoes from the American Cathedral," "The Blue Estuaries," ( both on Zephyr Records) and "Praise the Spirit" (recorded on Gothic Records and featuring White on keyboards and Texas Music Festival director Alan Austin on violin).
In addition to "I Cannot Live With You," White will have two other compositions premiered this summer. On June 20, Houstonians will experience "As You Set Out for Ithaka," performed by Moores faculty members at the Texas Music Festival. In July, Houston's St. Paul's Choir will introduce White's "Te Deum" at Exeter Cathedral in England.
"David's music is very melodic," Weber said. "It's instantly appealing. Underlying this instant appeal is a complex mix of harmony and metric organization, which is very interesting on an intellectual and an expressive level."
White joined the MSM's faculty in 1978 and was named the school's director in 1999. He holds the Margaret M. Alkek and Margaret Alkek Williams Endowed Chair. UH Libraries' Special Collections houses the Dr. David Ashley White Papers, a compilation of scores, programs, correspondence, audio-visual materials, and other items relating to his career as both a composer and music instructor.
---