The University of Houston (UH) has received a prestigious Our Town grant from the National Endowment for the Arts (NEA), one of only 51 grants of this kind awarded nationwide. The university will receive $100,000 to support a series of public art installations, new media initiatives and cultural planning activities.

Our Town is the NEA's new leadership initiative focused on creative placemaking projects. In creative placemaking, partners from both public and private sectors come together to strategically shape the physical and social character of a neighborhood, town, city or region around arts and cultural activities.
The Third Ward Arts Initiative proposes to team visual, performing and new media artists with local art partners, architects, engineers, urban planners, developers and community residents to create new media, technology and arts projects for community inspiration, education, tourism and other economic opportunities that serve as integral elements of Houston's larger civic revitalization effort.
National Endowment for the Arts Chairman Rocco Landesman said, "Communities across our country are using smart design and leveraging the arts to enhance quality of life and promote their distinctive identities. In this time of great economic upheaval, Our Town provides communities an opportunity to reignite their economies."
"We are tremendously excited that the Third Ward Arts Initiative has been selected to receive the Our Town grant from the National Endowment for the Arts," said Renu Khator, president of the University of Houston.
"We are proud of the many arts, humanities and architecture projects coordinated by UH faculty with Third Ward cultural and arts organizations, the city of Houston and the Old Spanish Trail/Almeda Corridors Redevelopment Authority.  Not only have our campus and our neighborhood benefited, but most important, each individual involved in this initiative, whether a Third Ward resident or a member of the UH community, has been enriched by the shared experiences learned as they planned, dreamed and worked side by side."
Mayor Annise Parker expressed her support for the project as well. "The artwork and creative wayfinding system that will result from the NEA's grant support will be a perfect complement to the other improvements the city is planning. I have no doubt that this work will exert a distinct, positive impact on local residents' lives, will draw more visitors to the area and enhance its transformation into a cultural center."
Judge Zinetta A. Burney spoke on behalf of Old Spanish Trail/Almeda Corridors Redevelopment Authority (TIRZ #7), a key partner in bringing this project to the fore. "The OST/Almeda Corridors Redevelopment Authority looks forward to working in partnership with the University of Houston, city of Houston, local arts organizations and other entities to leverage our resources to help revitalize our community. By engaging artists through the Third Ward Arts Initiative to work with our design professionals, we believe our public spaces projects, specifically the Park at Palm Center, will be greatly enhanced."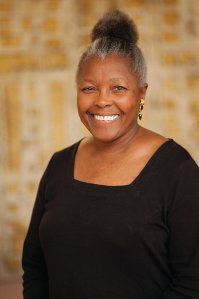 UH research professor Carroll Parrott Blue, executive director and president of The Dawn Project, elaborated further on the unique opportunity presented by this grant. "The Third Ward Arts Initiative has a fine set of ingredients to honor the prestigious National Endowment for the Arts' Our Town award:  The city of Houston's boundless optimism and can-do attitude, the University of Houston's dedication to cultivating university-community partnerships, the OST/Almeda Corridors Redevelopment Authority's bold commitment to honor the arts by employing creative placemaking to build strong communities, and The Dawn Project's goal to creatively use art, architecture, design and new media for community development."
Blue is the Third Ward Arts Initiative project director. She employs art, architecture, design, new media and performing arts to highlight the Third Ward's distinctive cultural history and provide supplementary educational opportunities for use in the area's K-12 schools and other universities. Blue initiated the project by creating a New Media Technology for Public Spaces committee comprised of 20 design professionals, educators and community residents.
The team's immediate assignment is to develop the Park at Palm Center (PAPC), a new park next to Houston's first shopping mall to provide an outdoor educational laboratory featuring the natural and environmental sciences, community gardens and a new media playground. The effort will later extend to the forthcoming Southeast Transit Corridor station slated for a location adjacent to the park.
The initiative calls the Park at Palm Center a SMART park, and collaborators already are designing a new media technology package for future implementation. The specific goals of new media development will be based on the results of a community survey asking residents to consider the options conceptualized by the initiative and make choices about what they consider most appealing. This is community engagement at its best, with some of the city's most creative minds innovating new ways to use public spaces and including residents in the process, according to Blue. This project closely matches the purpose of the Our Town awards, and the outcome will enhance the daily experiences of Third Ward visitors and residents for many years to come, she said.
---