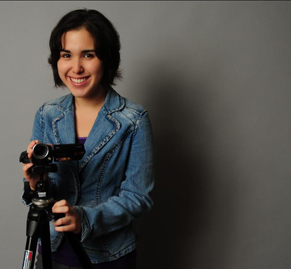 Though she doesn't consider herself a traditional "glamour girl," University of Houston Honors College student Erica Fletcher earned that title recently as she joined the ranks as one of Glamour magazine's Top 10 College Women of the year.
Fletcher, whose profile appears in the October edition of the magazine, is one of 10 college seniors from across the nation to be highlighted for her academic excellence, personal involvement in the community and her leadership experience.
"I am grateful that I can represent the University of Houston in a competition predominated by Ivy League scholars," Fletcher said.
"I don't consider myself to be a 'glamour' girl in the traditional sense at all, but I am glad that the norms of what it means to be glamorous have changed quite a bit to accommodate girls who dream big," she said.
Fletcher, a senior with a triple major in anthropology, sociology and psychology, is described in the magazine as "the documentarian." She is lauded for "Marianismo," her recent documentary film that explores the cultural factors that contribute to the disproportionate spread of HIV/AIDS among Latina women. The film was screened last spring on campus and at the Museum of Fine Arts, Houston, and as part of the Voices Breaking Boundaries series "La Voz Femeninia," in collaboration with UH's Arte Público Press.
"I believe strongly that we define our success as a university by our students' success," UH President Renu Khator said. "This recognition of Erica Fletcher's talents and contributions toward improving society and the human condition is well deserved. Her accomplishments set a standard for the kind of selfless leadership and service we hope will inspire others."
As part of the award, Fletcher received a $3,000 scholarship, plus a trip to New York City to meet the rest of the recipients at a reception.
"I have really enjoyed meeting the other award recipients and being around so many dedicated women who are passionate about changing the world for the better," Fletcher said. "Reading their stories and talking with them about their goals and dreams has been amazing. I think it is crucial that women around the world support each other in their endeavors, and I hope that this award will foster more networks of strong women interested in global development."
In addition to the trip to New York City, Fletcher also experienced the thrill of being in front of the camera during a photo shoot with a Glamour magazine photographer in Houston's Second Ward, where Fletcher filmed part of her documentary.
 "We were outside for three hours or so shooting," she said. "I think they were a little overwhelmed by Houston's heat and humidity, but they said that good photographs were worth their sweat and sunburns."
Fletcher, who will graduate in May, has been involved in many organizations on campus, including serving as the president of the Anthropology Student Association and founding the World Aid Organization, which has successfully completed three international service projects in Brazil, Peru and the Philippines.
She hopes the award from Glamour will increase interest in her future films, including her current documentary on sex trafficking in Houston.
"I hope to raise awareness about this issue not only through the film, but also on the radio, television and print," Fletcher said. "Glamour magazine is a great forum to inform young women about Houston's problem with sex trafficking and to promote local and national awareness about the issue."
About the University of Houston
The University of Houston is a comprehensive national research institution serving the globally competitive Houston and Gulf Coast Region by providing world-class faculty, experiential learning and strategic industry partnerships.  UH serves more than 38,500 students in the nation's fourth-largest city, located in the most ethnically and culturally diverse region of the country. 
For more information about UH
visit the university's Newsroom at
www.uh.edu/admin/media/newsroom
---