During Cougar football games, the University of Houston's Spirit of Houston Cougar Marching Band transforms halftime into show time. With its high energy performances and precision musicianship, the band entertains thousands on a weekly basis.
At 7:30 p.m., Oct. 29, the Spirit of Houston will march onto the stage of UH's Moores Opera House for its 6th annual benefit concert. The show will feature all 200-plus members of the band, as well as the Cougar Dolls, cheerleaders and dance squad. Proceeds from ticket sales will support band scholarships and program funds.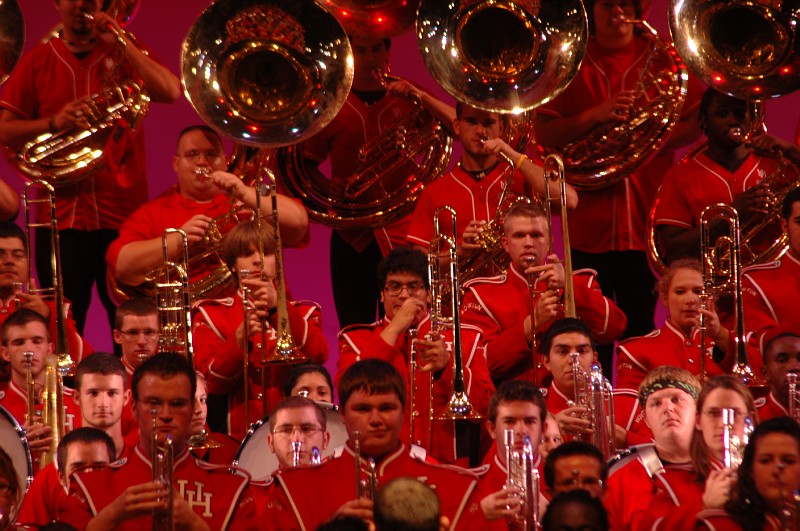 "This performance will be just as exciting as those on the field," said David Bertman, Spirit of Houston director. "Each year, we try to step up our game to make this concert bigger and better than ever. This year, we have a great mix of music designed to boost Cougar Pride and entertain audiences of all ages."
Selections to be performed at the Spirit of Houston concert include game day favorites such as the pre-game fanfare and "Deep in the Heart of Texas." The band also will deliver an alternate Cougar fight song that was written by Houston big band legend Ed Gerlach. It also will treat fans to a medley of hits from classic rock band Journey.
During the concert, Ann Ostrow (wife of UH distinguished theater professor Stuart Ostrow) will be awarded the Golden Cougar award for her longtime support of the Spirit of Houston. The band also will pay tribute to another longtime friend to the band, the late Bert F. Winston.
"He was a very generous supporter of the band," Bertman said. "He loved the music and loved UH athletics."
Fans around the nation have thrilled to Cougar Marching Band's performances. In 2004, it had the distinction of jamming alongside Janet Jackson during the Super Bowl XXXVIII halftime show at Reliant Stadium. The band also has participated in parades across the country including the Houston Livestock Show and Rodeo Parade.
Tickets for the Spirit of Houston Cougar Marching Band Benefit Concert are $10 and can be reserved or purchased by calling 713-743-3307. For more details, visit www.uhbands.com.
| | |
| --- | --- |
| WHAT: | "Spirit of Houston" Cougar Marching Band Benefit Concert |
| WHEN: | 7:30 p.m., Oct. 29 |
| WHERE: | UH Moores Opera House - Entrance 16 off of Cullen Blvd., Houston, TX 77204-4017 |
| WHO: | UH Moores School of Music |
---