When diverse ideas and talents converge, the possibilities can be limitless. Students in the University of Houston's Graduate/Design Build Studio (GDBS) are discovering this firsthand as they apply their energies toward community-enhancing projects.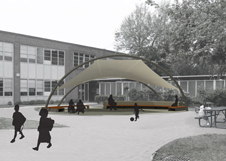 As part of the Gerald D. Hines College of Architecture, the studio unites the minds of first-year master's students  -- all with disparate undergraduate backgrounds.  Together, they conceptualize and construct unique spaces for Houston non-profit organizations.
This summer, the GDBS team is creating an outdoor amphitheater for Houston's T.H. Rogers School. Once complete, it will provide an area for  socializing, learning activities, class assemblies and other events. Construction on this project is scheduled to wrap in August.
 "It's a fantastic coincidence that our students have the unusual opportunity to see their design through from conceptualization to construction," said Patrick Peters, GDBS director. "At the same time, they are making an impact in the community and the lives of its residents."
Peters and UH architecture instructor Mark Dillon are overseeing the team of 11 GDBS students. The T.H. Rogers project began during the spring 2010 semester. It has continued throughout the summer months with many students working around the clock and during weekends. As they work to meet the August deadline, students shuffle their daily tasks between their studio inside UH's Architecture building, the neighboring Burdette Keeland Jr. Design Exploration Center (where students receive hands-on construction and fabrication experience) and the construction site. The experience is leaving them more aware of the entire architectural and construction process.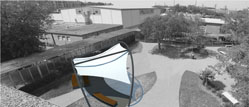 "It offers a great view of the architectural field," said GDBS student Zach Copeland. "We're not just designing things. We're actually building them ourselves. It's one thing to draw lines on a page, but it's a much different experience to know how these lines go into the final form."
The completed amphitheater will be wheelchair accessible and include three levels of bench seating and a stage.  Arched steel beams will extend overhead and support a tensile fabric canopy - the project's key feature.
Most Houstonians have seen tensile fabric used as canopies at H.E.B. outlets and Auto Nation dealerships. It also is the material that was used to create the Cynthia Woods Mitchell Pavilion's trademark white canopy and the roofs at Reliant Stadium and Minute Maid Park.
While it's durable, weather-resistant and has a charismatic design quality, tensile fabric is a complex technology that provides students with additional challenges to work through.
"It adds another dimension to this project," Peters said. "It is a tricky technology. It's an engineered surface designed for very high stresses. It takes a lot of upfront engineering, but we've had support from architectural communities from around the world."
To the common eye, the mathematics and geometry involved in creating a site-specific tensile canopy is invisible. For the students who have spent hours consulting with tensile experts and analyzing computer diagrams, the number crunching factors heavily into the success of the project.
Math and geometry are only a few of the disciplines being applied to the design and construction of the amphitheater. Considering the team's mix of academic backgrounds (sociology, history, science, art, math and creative writing), each GDBS student brings a unique talent to the project.
"Everybody comes in with a different strength," said student Maggie Port, who has a bachelor's degree in mathematics. "The best aspect of this dynamic is that we can all learn from each other."
When all is said and done, T.H. Rogers students and teachers will benefit from a unique, durable, practical and visibly appealing addition to their campus. GDBS students also will be rewarded by the experience of seeing their work come to life.
"I'm very eager to see the final product," Copeland said. "I have a rendered image of what the amphitheater will look like as my computer's screen saver. I'm ready to see the real thing."
The T.H. Rogers amphitheater marks the 21st annual project for GDBS. Past projects have included an outdoor classroom and film projection canopy at Hamilton Middle School; an outdoor performing arts stage at Roberts Elementary School and an ecological classroom for the UH Charter School.
GDBS projects are funded by clients with support from donors. The organizations that have contributed resources and expertise to the T.H. Rogers amphitheater project are Morris Architects, Murrell Tensile Works LLC, United Galvanizing Inc., Tolunay-Wong Engineers, CMC Construction Services, Bovis Lend Lease, Asakura Robinson Co., W.S. Bellows Construction Group and Ground Hog Foundation Drilling.
To learn more about UH's Graduate Design/Build Studio, visit its Web site at http://www.uh.edu/gdbs/. Updates on the T.H. Rogers projects are posted at the GDBS Facebook site at http://tinyurl.com/3648cuj.
---