Researching one of the most significant employers and entities in the history of El Paso, Texas, was a challenge for University of Houston assistant professor Monica Perales.  Despite the fact that generations of families had worked for the American Smelting and Refining Co., and that residents had created their own vibrant community around it, history books all but ignored its presence of nearly a century.  Perales book "Smeltertown: Making and Remembering a Southwest Border Community" aims to tell its important story.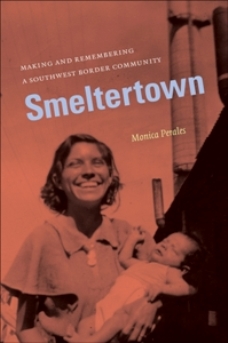 "When you read the history of El Paso, it tends to be focused on the big movers and shakers, politicians and characters," Perales said.  "This book is about what kind of history gets told.  A history of El Paso and Smeltertown allows us to see an important role Mexicans played in developing the urban West."
Smeltertown (or La Esmelda) was the name residents gave to the area surrounding the smelter grounds  in El Paso, established in the 1800s.  Located on the banks of the Rio Grande River, generations of ethnic Mexicans came from various cities to labor as skimmers, punchers, machinists and other positions, all while building homes, raising families, worshiping God and establishing businesses in the shadow of the factory.  Perales says what emerged over time was an sense of permanence, meaning and identity  independent of the company, the city of El Paso, public schools and even the Catholic church (early residents referred to the local Smeltertown church not always by its formal name,  but as  Santa Rosalia to reflect their connection to the Mexican town from which many of them hailed).
"These were hard lives and an industry that, at times, was unpleasant to say the least, but it was also a place where people developed an attachment," she said.  "The smelter has been closed for some time, but the stories people tell about it are strikingly positive, which says something deeper-that this place also provided support, identity and connectedness."
Perales relied heavily on oral histories, some from her own family, who told of working "in the bowels of Hell" in the factory smelting rooms, of  planting flowers around their porch that overlooked the smokestacks, or how factory officials employed the local priest to help with misbehaving children.  Additionally, Perales used newspaper articles, Census data, and papers from legal proceedings to piece together the story of Smeltertown.  Information from employee records helped her mark job trends, pay scales, employee and employer residences and hometowns.
"The company gave me access to records from 1900-1960, and one resident had parish newsletters from the 1920s and 30s," she said.  "I'd interview one person who would then put me in touch with a handful of other people.  Smeltertown tells the story of who they are-then and now."
"This story reorients us in terms of what we think about borderland history and how these people played an integral role in the development of the industrial West," Perales said.  "I see the people of Smeltertown as important historical actors.  They're not presidents, popes or royalty, but everyday people who also made history.  It's a big story.  It's inspiring, and I'm humbled by it."
---