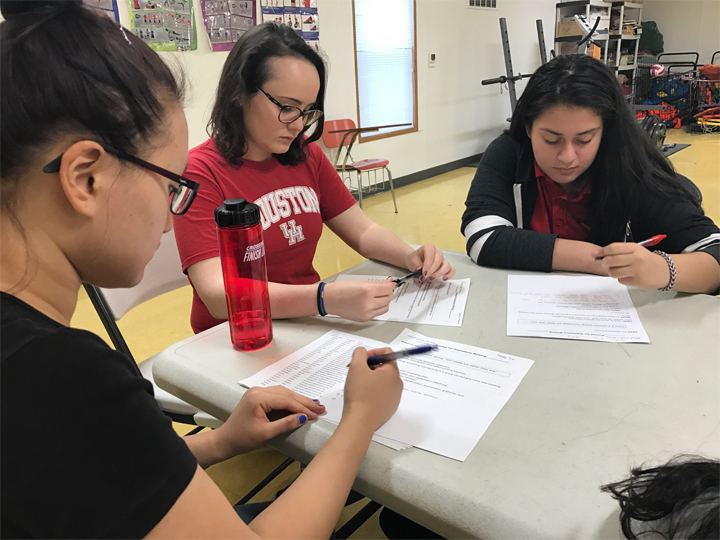 An innovative writing and mentoring program at the University of Houston Honors College is helping 7th grade students at KIPP Intrepid Preparatory School in Houston's East End prepare for the upcoming State of Texas Assessments of Academic Readiness (STAAR) writing test.
 WISE Program
The Writing to Inspire Successful Education (WISE) program places UH writing mentors from the Bonner Leaders Program in the KIPP Intrepid classroom for one-on-one writing tutoring four days a week.
Mentors upload a pre-recorded video every week with a personalized, line-by-line edit of a student's essay. 
Goal: improve test scores, increase confidence and help more kids go to college.
 Results
Since fall 2015, Bonner scholars have been tutoring students at KIPP Intrepid in the East End and recently started a pilot program at KIPP Liberation in historic Third Ward.  
2016 STAAR writing test: 16 percent of KIPP Intrepid students received "commended" proficiency scores compared to just three percent the year prior — before the UH mentors arrived.
2016 STAAR marked the first time Intrepid scored above the state average
Beyond just helping students develop ideas, improve sentence structure or use proper punctuation, the UH mentors also open minds to what's possible, including conversations about going to college.
 13-year-old Jacob Ortiz, KIPP Intrepid student: "Before the mentors came, I was always nervous about my essay. Now I feel more comfortable and confident that I'll get a good grade. They really believe that we can become good writers and do well in life. They care about us and that feels great."
 Shannon Keen, UH Honors College Director of Service Learning: "This project is really about problem solving, organization and project-based learning.  That's what the Bonners get out of this. They successfully pulled it off in ways I don't think we could've imagined."
 KIPP co-founder Mike Feinberg: "UH does not live in a bubble, and KIPP does not live in a bubble.  It's amazing what we can accomplish when it doesn't matter who gets the credit. The winners are the children. UH, and the Bonner Scholars in particular, have a passion for improving our community. This was a natural fit taking advantage of UH student talents to benefit more children."
 Serrae Reed, the WISE project lead and UH junior: "Writing is the foundation for how you think about the world and how you approach everything in your life. It's the polished version of what you say and so important for success in college and beyond. Our Bonner founding director, Andrew Hamilton said 'Be ashamed to graduate from UH without having won a victory for the people of Houston,' and that's my motivation."
---