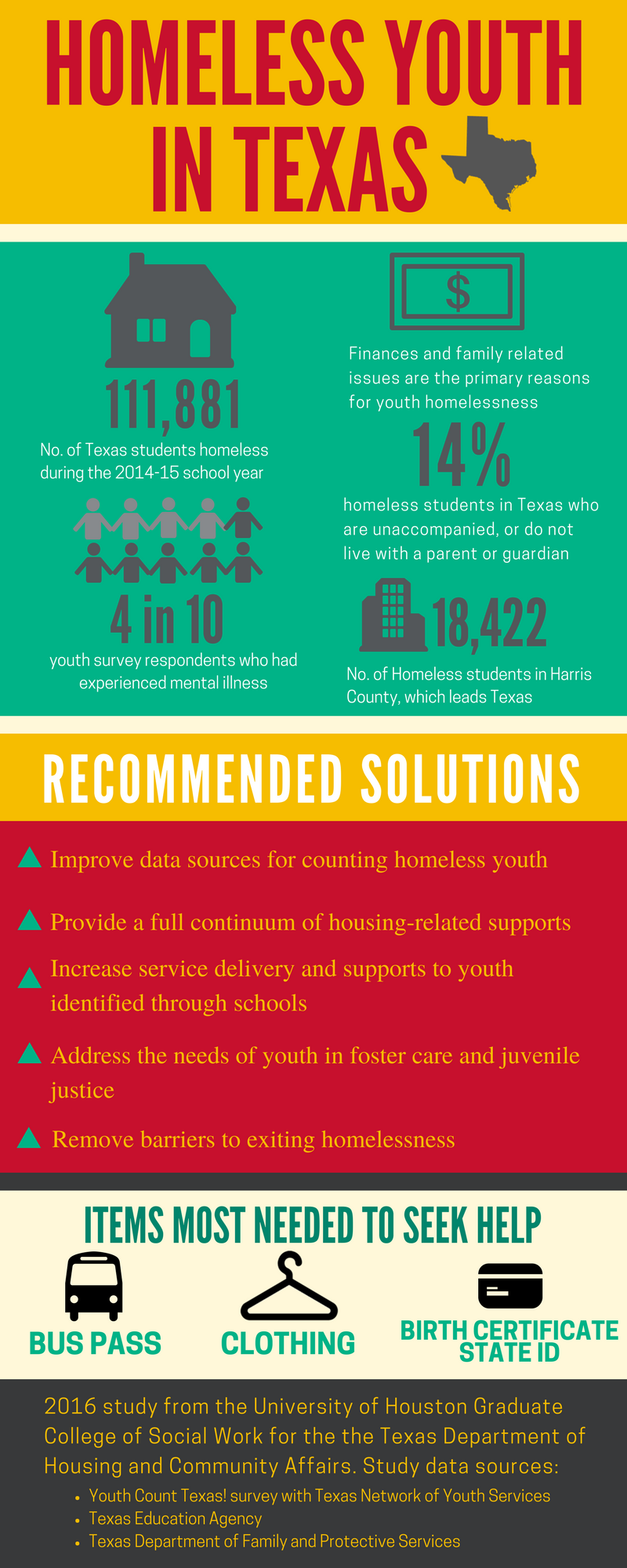 Youth homelessness is a troubling issue in Texas, but determining the exact number of children affected at any given time and how to help them is challenging. The University of Houston Graduate College of Social Work (GCSW) led a team of researchers, policy advocates and young people who have experienced homelessness to compile a list of recommendations for lawmakers. The report addressing youth homelessness will be used as a resource for lawmakers during the 85th Legislative Session.
 "These are some of our most vulnerable people who are traumatized over and over again, and we have policies that fail to support them," said UH assistant professor and lead study author Sarah Narendorf. 
 The UH GCSW was contracted by the Texas Department of Housing and Community Affairs (TDHCA) to analyze data from three sources about homeless youth in Texas.  Data came from Youth Count Texas!, a project to survey homeless youth across the state led by the Texas Network of Youth Services (TNOYS), administrative data on homeless students from the Texas Education Agency, and data from the Texas Department of Family and Protective Services (DFPS).  The information was used to estimate the number of homeless youth and examine their needs. Then, along with stakeholder feedback from multiple sources, the research team developed a strategic plan to reduce youth homelessness.
 "Lives really are at stake. Young people who have experienced homelessness helped me with this study, so I saw directly how challenging it is. There are so many barriers for these young people to overcome, and they need help," Narendorf said.
Key Statistics According to Youth Homelessness in Texas Study:
-During the 2014-2015 school year:
        111,881 Texas students were homeless
        15,608 of these were unaccompanied youth not living with parents or legal guardians
-       Harris County leads the state with 18,422 homeless youth
-       Finances and family related issues were the top reasons given for homelessness
-       39.9 percent of respondents to the YCT! survey said they had experienced mental illness; 15.6% cited post-traumatic stress disorder
-       Homeless youth say bus passes, clothing, birth certificates and state IDs are the top items they need help getting
 Study Recommendations to Address Identified Gaps Across Five Areas:
1. Improve data sources for counting homeless youth
2. Provide a full continuum of housing-related supports
3. Increase service delivery and supports to youth identified through schools
4. Address the needs of youth in foster care and juvenile justice
5. Remove barriers to exiting homelessness
This study fulfills a requirement of House Bill 679, passed in the 84th Legislative session, and authored by then state Rep. and current Houston Mayor Sylvester Turner, to aid policymakers in better understanding youth homelessness and finding ways to help.
"Our report lays out a number of ways to start addressing this issue. First, youth-specific funding to support programs is vital because there isn't currently funding available specifically targeting youth homelessness," said Narendorf.
---