Graduating….In Their Own Words
May 10, 2023
Students from the Gessner College of Nursing's Traditional Bachelor of Science in Nursing program start as pre-nursing freshmen at the University of Houston before moving their studies to UH at Katy. The rigorous program prepares them not only to be nurses, but nurse leaders and advocates. Two Traditional BSN students (and soon-to-be graduates) share their stories of perseverance and accomplishment.
Emery White
I am very excited to be graduating this spring. It has been a long and tough journey, but rewarding as well. Nursing school has helped me grow in many ways and I am so grateful to have had the opportunities and family support to make it this far.
While I was in high school, my Dad was left disabled after suffering from an illness. Ever since, my family and I provide care for him on a weekly basis. Helping my family provide care for my Dad is what inspired me to pursue a career in nursing.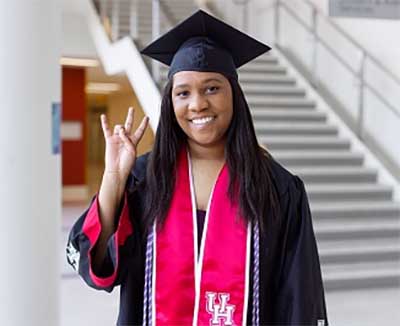 Having to navigate nursing school, medical care for my Dad and assisting my mother with household duties proved to be difficult. I had to learn how to properly manage my time and plan my days using strict time constraints. During the Spring semester of my junior year, I finally reached a low point of utter burnout and exhaustion. During that semester, we started 12-hour clinical shifts in the hospitals and had lengthy care plans to complete after those long days. I started to miss assignments more often and score low on tests.
The outpouring of support I received from my family during this time pushed me to keep going. My Mom, sisters' and Dad's unwavering support is what made me wake up every day and say, "I will try my hardest." I was also awarded the Gessner Family Nursing Scholarship which covered my tuition for my two years in nursing school. Our class size here at the Gessner College of Nursing Traditional program is only about 23 students, so we are all really close. My peers have helped encourage me when I felt down and have provided me with emotional support after a tough 12-hour hospital shift. I sought advice from faculty at the College of Nursing who were able to provide some tips for stress management. Not only did I come out of that semester strong, I learned valuable lessons about the importance of self-care.
The advice that I would give other students negotiating challenges during their college years is to not be afraid to reach out to your faculty if you are struggling with stress or other issues. If I could go back, I would have reached out a lot sooner than I did. They are there to help you and guide you toward success.
I have accepted a job position at Houston Methodist on the Neurology and Stroke Unit. In the future I hope to advance my career as a nurse and work in nursing administration.
I am just so grateful for my family who supports me, the staff at the Andy and Barbara Gessner College of Nursing who do their best to ensure success for their students, and my peers for encouraging me to keep going even when it gets hard to do so. I can't wait to put my skills into practice as a professional nurse and continue to grow and set an example for future nurses just as great as the example displayed for me here at UH.
***
Chloie Anne Calderon
As graduation is nearing, I realize how much I have grown to be the person I am today. From improving my time management skills, balancing my personal life and school life, and endless learning, I have come to appreciate the challenges I've faced and overcame in order to get to where I am now.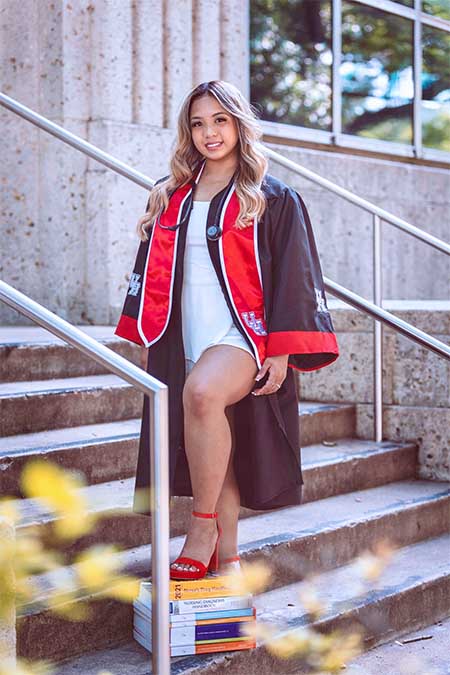 In my last two years of college, I attended the University of Houston's Traditional Bachelor of Science in Nursing Program in Katy. I attempted to maintain a job, which was highly stressful. The nursing program itself requires time, resilience and determination. My multiple attempts to balance a job during the program diverted much needed attention from school, which was reflected in my grades. While trying to balance work and school, I had been experiencing lower back pain due to a herniated disc. This affected my everyday life because the pain would radiate down to my legs every time I sat for long periods of time during lectures and studying. Prolonged standing and repositioning patients during my clinical rotation shifts also left my back in unbearable pain. I quit my job with hopes that I had saved enough money to use for basic needs because I needed to focus on my studies. I felt as if I was losing control of everything, and I had doubts and thoughts of leaving the program because I felt as close to a failure with little money in my account, inconsolable back pain, and questionable grades. I confided in my parents about my struggles and the slip of control I once previously had over my life. If it weren't for my parents' physical and emotional support, I wouldn't have been able to continue with my studies. They pushed me forward when I couldn't do it myself in the pursuit of my education.
With my own perseverance and endless support from loved ones, I am now where I worked hard to be. I'm happy to announce that I will be a pediatric nurse at Texas Children's Hospital in the medical center.
For anyone pursuing their dreams, never forget that you are not alone in facing your challenges. There will always be people to help you in some way and people on the sidelines rooting for you and your successes. Seek guidance, keep your head up, and remember to always find light in that every challenge you face molds you to adapt, improve, and succeed.
Read more