Traditional Bachelor of Science Nursing Program Enters Third Year at UH at Katy
September 15, 2022
By Dennis Spellman
Texas and the nation are facing a severe nursing shortage, and the University of Houston nursing program is working to solve that crisis. 
"There are 47 traditional nursing students in our fall Bachelor of Science Nursing (BSN) Program cohort," said Kathryn Tart, professor and founding dean of the UH College of Nursing. "This is the third admission cohort of traditional BSN students. It is a noble profession, and hopefully our graduates will stay i the Houston area where so many people are moving. Nursing jobs are plentiful in our community. "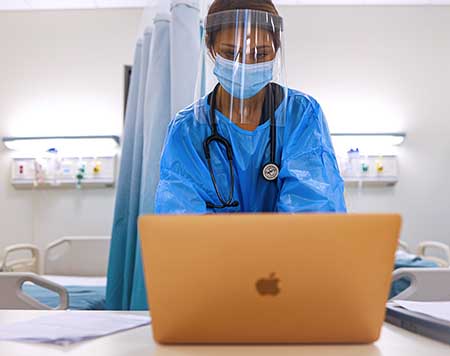 The traditional BSN program, now entering its third year, is housed at the Katy instructional site. Only University of Houston pre-nursing students can apply to the program.
"We have more than 200 pre-nursing students in the robust pipeline at UH, so we will be able to grow efficiently and effectively," Tart said. 
With 8 clinical rotations in Katy and the greater Houston area required in two years, students are literally taking care of patients to be ready to enter the profession.
Clinical rotations include areas such as:
medical/surgical nursing
pediatrics
psychiatric/mental health
intensive care/high acuity
obstetrics/labor and delivery
community health
leadership and management
and a nursing elective (example: operating room or emergency room nursing )
"Students go into community health settings, the Texas Medical Center, and school districts like HISD, Katy ISD and Lamar CISD," she said. "Our Traditional BSN students learn about interprofessional education and care of the patient with students from the Graduate College of Social Work and the College of Medicine."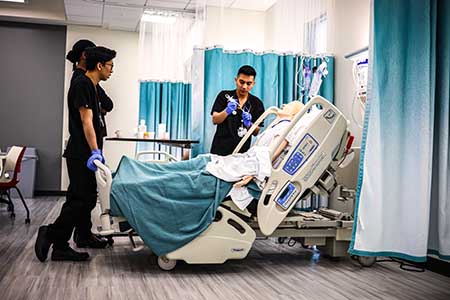 Participating hospitals include Methodist West, Memorial Hermann Katy, Texas Children's, Methodist Extended Care, and Texana Behavioral Healthcare Clinics, to name a few.
Tart says the UH nursing program has a 100 percent pass rate for all students.
"The national average is 82 percent for first-time pass rate and 84 for the state of Texas," she said.
An added plus, UH nursing graduates have the lowest debt rate of any university nursing program in Texas according to a recent Forbes article. And graduates are finding jobs that pay well.
"We have 100 percent employment for our graduates," she said. "Katy residents should be pleased that this program is in their community. UH listened to what the needs are in the community, and we acted upon them."
Learn more about the UH College of Nursing Traditional BSN program and opportunities to support the programs:  uh.edu/nursing
Read more