Growing Interest, Enrollment in UH/HCC Engineering Academy
September 29, 2021
By Dennis Spellman
The Engineering Academy partnership between the University of Houston and Houston Community College enters its second year in Katy with growing enrollment and great promise for the future.
Recruiting and information sessions are offered throughout the year. The next opportunity will be at the Katy ISD College and Career Night on Wednesday, October 6, 2021, from 7 to 9 p.m. at Tompkins High School. For more information contact EnidAtilano@KatyISD.org. 
Started in 2020, the HCC/UH Engineering Academy is a dual enrollment program for students who want to earn a University of Houston bachelor's degree in engineering.
"What is surprising is the amount of interest the Katy community has in the program," said Brian Metrovich, Ph.D., UH Cullen College of Engineering and director of programs at UH at Katy. "The more I see, the more I'm convinced the program will be successful," he said.
For the first two years of their studies, students take their core classes at the HCC's Katy campus and their engineering classes at UH at Katy, located at I-10 and Highway 99. When they successfully complete their two years at HCC they can transfer to the UH Cullen College of Engineering. 
Interest in the Engineering Academy is growing. Its 2020 class had 23 students and the 2021 cohort has 32 students.
The commute between UH at Katy and HCC Katy is a very short drive, but later this year it will become a very short walk. HCC will soon move its Katy campus to a building across the street from UH at Katy.
Students who want to remain at UH at Katy can obtain a UH bachelor's degree in construction engineering, systems engineering, or computer engineering and analytics.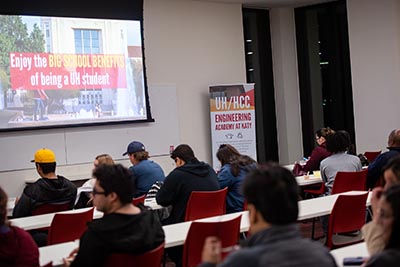 The degree puts them in line to earn competitive salaries in fields where local employers say they need to fill positions.
"Those majors that were selected were the result of a study conducted several years ago with input from businesses in the Katy area," Metrovich said.
There are many advantages for students who are part of the Engineering Academy. It's less expensive than attending UH for four years because students take the majority of their first two years of classes through HCC. Classes are also smaller than those at the UH Cullen College of Engineering. Additionally, every Engineering Academy class is transferable to the Cullen College and students who live in the Katy area can avoid the cost of room and board by living at home.
"We want them to be able to show they can do engineering work. We give them a full course load," Metrovich said.
The Engineering Academy helps students succeed. Classes are small, about 40 students. Students are grouped into a cohort that allows them to excel because they form a bond with classmates. The cohort stays together through all their engineering courses.
"The students get to know each other," Metrovich said. "They're seeing the same people in each class, and it develops a comradery among students. It's intentional."
Many cohort members are first-generation college students and don't have family members who can advise them during their college career so UH provides additional support.
"We have dedicated advisors to address the concerns of students. We are trying to give students the support they need," Metrovich said.
Keeping classes small and using the cohort concept is more expensive for UH, but it allows the Cullen College of Engineering to cater to students who may otherwise struggle to get acclimated.
"It costs more time and money because it requires you to have smaller classes, but we have found it helps students that could be at risk," Metrovich said. "They are quality students who benefit from the extra guidance."
Students who graduate from the Engineering Academy and transfer to the Cullen College of Engineering on the main campus in Houston can choose five different areas of study, mechanical engineering, electrical engineering, civil engineering, industrial engineering, or computer engineering.
The Katy program was so successful that UH has expanded it to the HCC Fraga campus, east of downtown Houston, at 301 North Drennan. Engineering Academy classes at the Fraga campus began in the Fall 2021 semester.
Read more