University of Houston, University of Houston-Victoria Officially Open Katy Academic Building
Oct. 14, 2019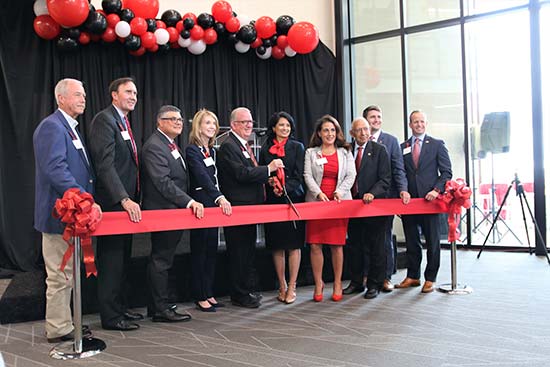 More than 150 guests joined officials from the University of Houston and the University of Houston-Victoria for the official ribbon cutting and grand opening of the Katy Academic Building. The new three-story, 80,000-square-foot building will be a shared space for the two sister institutions.
"I want to thank you all for your friendship, trust and belief that one short year after groundbreaking, students would be here studying business, education, nursing, engineering and more, preparing to become the next generation of professionals for this area," said Jay Neal, associate vice president, academic affairs and chief operating officer of UH at Katy.
Doors opened to students in August. The University of Houston-Victoria is offering graduate and undergraduate programs in business, education and liberal arts. The University of Houston at Katy is offering graduate and undergraduate programs in nursing and engineering.
"Here in Katy a need for higher education was expressed by the leaders of the community and the UH System brought together our two sister institutions to make sure all of those needs are met," said UHV President Robert "Bob" Glenn. "Our two institutions bring great strengths to the region. Together we can do so much more than we ever could do separately, precisely because of the synergy between our two institutions."
Among the guests attending the event were Katy Mayor Bill Hastings, Fort Bend County Judge K.P. George, Congressman Pete Olson and State Rep. Gina Calanni.
Construction began in May 2018.
The Katy Academic Building is located off the Grand Parkway, north of I-10.
Read more