Set-up a Delegate in Microsoft Teams
A Delegate is a person with permission to receive calls, messages and schedule meetings on behalf of another. Deans, directors and department heads commonly use a Delegate, as well as department phones where a back‐up person is needed to answer the phone. If a phone must be answered at all times, delegation provides a solution by routing incoming calls to multiple phones. 
To set-up delegate access in Microsoft Teams for Windows or Mac:
In the Teams app, click the Settings and more icon (the three dots next your profile picture) and click Settings.




Select Manage delegates.




Select Your delegates.
Enter a name in the search field.
Select the permissions.
Click Add.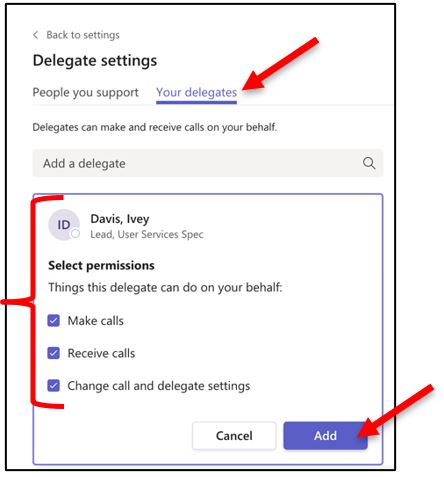 To make edits to permissions or to remove a delegate:
Click More actions.
Select either Edit permissions or Remove delegate.


Create a Microsoft Teams Conference Call on Behalf of Another User
Requirements
Ensure that you have been granted access to Microsoft Teams Teleconferencing.
Ensure that you have delegate access for the calendar of the person in question.
Ensure that you are signed into both Microsoft Teams and Outlook.


1. Open the person's calendar that you manage. Click the day you wish to schedule the message for and click the New Teams Meeting button on the Outlook toolbar. 



2. Fill out all the relevant information for the meeting, including the meeting title and the attendees. You should see the Join Microsoft Teams Meeting information in the meeting body, along with the call-in number and the conference ID.
3. Click Send. This will create the meeting and will notify the attendees.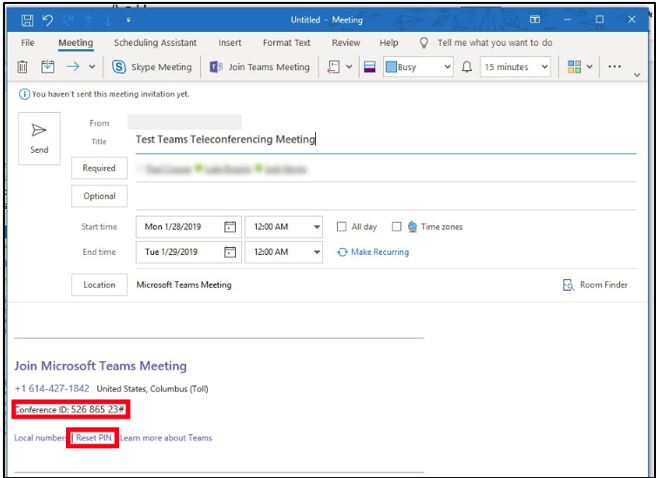 Note: When the recipients of the invitation view the invitation, it will appear to be from "<your name> on behalf of <other person>." The attendees will be notified that you have scheduled this meeting on behalf of the other person.
For Microsoft Teams related questions or problems, send email to unifiedcommunications@uh.edu.