Fulbright Scholarship: Teaching and Combating Education Inequality in Lativia
By Daniel Wallace
March 25, 2019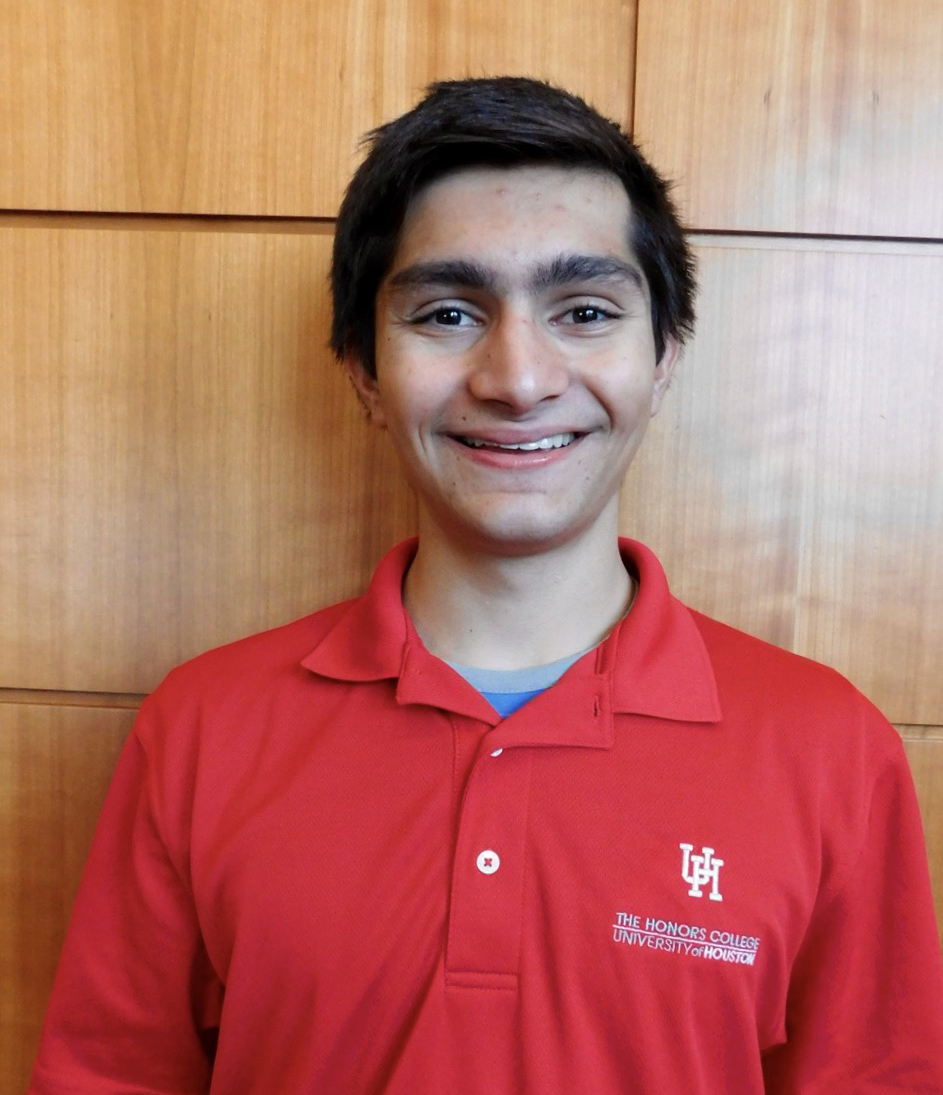 For Halloween in 2018, Khalid Sheikh ('18) was a long way from his hometown in Houston, but that didn't stop him from celebrating one of his favorite holidays. In the riverside city of Riga, he hosted a Halloween party inside the Latvian National Library. "Everyone dressed up," Sheikh wrote in February, from Riga. "We played a bunch of games, and, of course, ate a lot of candy. We even read stories by Edgar Allen Poe to get into the scary spirit. Halloween isn't very popular in Latvia, so it was fun to show just how big a part of American culture it is."           
Sheikh, a former Honors College student at UH who is currently stationed in Latvia on a 2018-2019 Fulbright Teaching Assistant Grant, is finding time to make new friends, explore the city, and pursue his long-term career goals in the fields of eduction, healthcare, and medical sciences. Twice a week in the Latvian National Library, Sheikh hosts a conversation club with a group of Latvians and with his fellow Fulbright recipients, and formally he is working with medical students at Rīga Stradiņš University and with 10th-grade students at Riga Classical Gymnasium. 
"My students at both schools have been a blast to teach," writes Sheikh. "My medical students have been examining the American healthcare system, and we've spent a lot of time debating the merits of publicly versus privately funded systems. At the gymnasium, I've taught lessons that range from doing mock job interviews to practicing improv comedy, to comparing high school life in Latvia to that in America. A lot of what my students know about life in America comes from movies, so I've had fun sharing my experiences and debunking a few stereotypes (for example: yes, most American high schoolers have lockers; no, people don't usually get stuffed inside)." 
Sheikh developed a passion for teaching and combating education inequality while serving in the Bonner Leaders Program at UH. Through that program, he co-founded Lobo Prep, a mentoring course for low-income high school students, and now his Fulbright experience is drawing on many of the skills he developed and the lessons he learned during his time as a student at the Univsrsity.  
"In addition to teaching English, my responsibility now, as a Fulbright recipient, is to serve as a cultural ambassador between the U.S. and Latvia," Sheikh said. "I'm interested in learning how Latvia provides public services to its minority citizens to see if there are lessons I can learn and apply in my future career as a physician."
Sheikh encourages students at UH, who might be interested in competitive scholarships and opportunities, to take a chance and go for it.   
"I've really enjoyed my experience here in Riga," Sheikh writes. "The city is absolutely beautiful, and I've had a great time getting to know its buildings, its food, and its people. I'm thankful to the Honors College for making this journey possible, and I am excited to continue building relationships and memories. I can't wait to see what the next few months of my grant will bring!" 
"Khalid is a great example of how students can continue to build off of an Honors education," said Ben Rayder, director of National Fellowships and Major Awards in the Office of Undergraduate Research (OUR) at UH. "It has been exciting to read about his ability to merge both his academic and professional interests as he for a career in medicine. Fulbright can be an instrumental experience for any student, regardless of their desired career and academic discipline."
The 2020-2021 Fulbright application cycle will open on April 1 this year. All prospective candidates are encouraged to contact Ben Rayder at btrayder@Central.UH.EDU for more information and to visit Fulbright Day on April 5, in the Honors College Commons.