Learning Arabic in Oman, Helping Refugees in Houston – CLS Recipient Sets Big Goals
By Murad Gafarov
October 2, 2018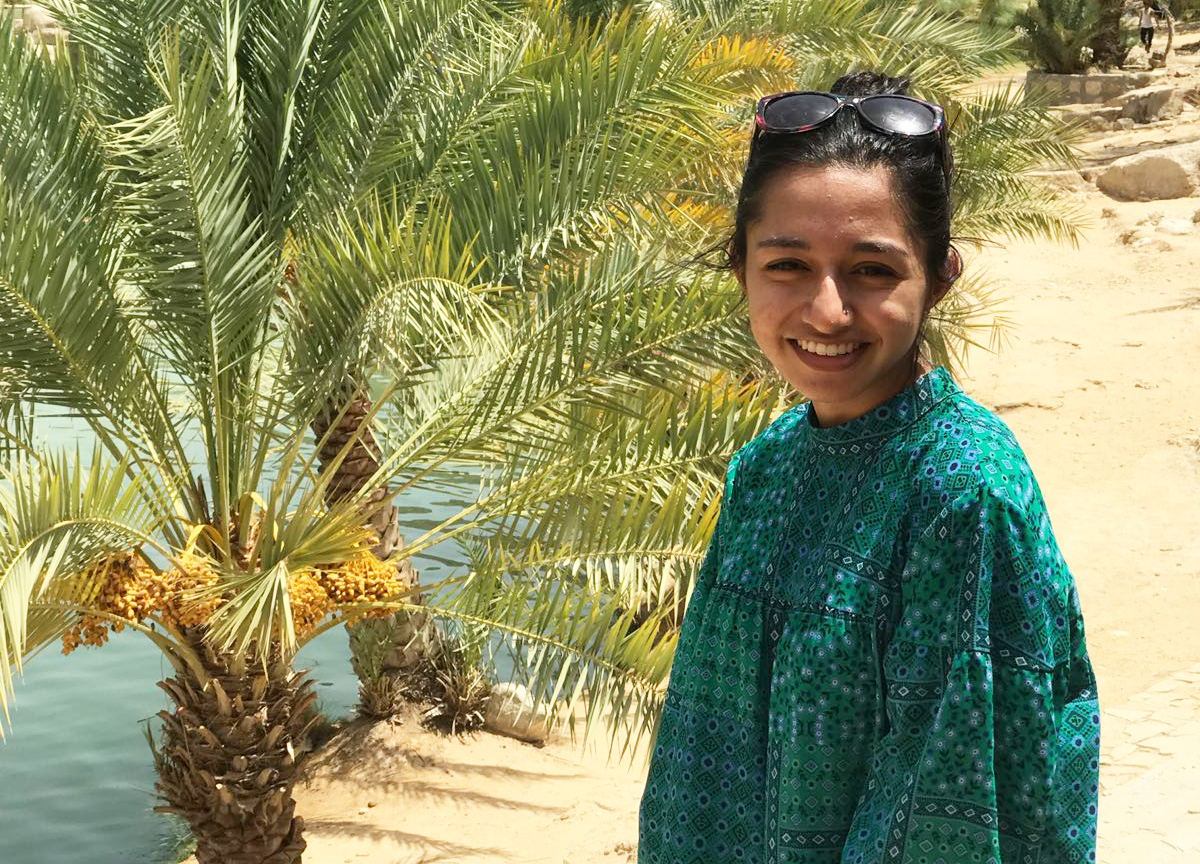 Honors senior Saman Essa is starting her final year at the University of Houston on a high note, having just spent the summer in Oman studying Arabic. Essa was one of four Critical Language Scholarship (CLS) recipients at UH in spring 2018, setting a new record for the University and paving the way for future CLS applicants. This fully-funded program, which includes tuition, a stipend, and airfare, is designed to promote the study of fourteen "critical" languages deemed important by the U.S. State Department, in order to increase national competitiveness and protect U.S. security. 
Actually, Essa learned to read Arabic at a young age: "However, because my family's mother-tongue is not Arabic, I had no idea what I was reciting," says Essa. "This is where my desire to learn Arabic came from, and the more I studied it, the more I came to love it." 
And since her sophomore year at UH, when Essa visited Cairo with the Model Arab League, she has been committed to deepening her knowledge of Arabic: "It was in the streets of Cairo, conversing with the locals and with our taxi drivers, that I realized I could communicate with others, in another language, in a different part of the world. I realized I had underestimated my language speaking abilities and needed to immerse myself for more than the 10 days I had in Cairo to really strengthen my skills and build my speaking confidence." 
After ten weeks of study and immersion in Oman, Essa is much closer to her goal. Each day she received three hours of classical Arabic instruction, as well as one hour of instruction in the Omani dialect. Culture is one of the most important aspects of the CLS program. On the weekends, Essa was able to stay with Omani families, absorbing their culture and deepening her understanding of the language. 
Initially entering the University of Houston as a psychology minor, Essa quickly added a minor in Middle Eastern Studies. With the help of Emran El-Badawi of the Middle Eastern Studies Department, she has completed a socio-historical, literature-focused project, in which she examined the Muslim influence on the Spanish classic Don Quixote. 
And living in Houston, home to one of the largest refugee populations in the world, has also inspired Essa to put her communications skills to practical use. One of Essa's greatest achievements is Project TREE (Teaching Refugees Effective English), an in-home tutoring program for refugee families, which she helped to put together. Project TREE started as the final project for an Introduction to Civic Engagement class, and Essa's professors liked the idea so much, they introduced her to others who were equally invested in working with refugees. Her next project will be a senior honors thesis on the impact of mental health on South Asian-American Women. Ultimately, Essa plans to attend graduate school to become a psychologist working with refugees. 
Despite her previous accomplishments, Essa was unsure of her chances of receiving a highly competitive Critical Language Scholarship. However, she says that applying is always the right thing to do, because the opportunities are too numerous, and too great. "My advice to anyone who wants to pursue something wholeheartedly is to go for it. You have no reason not to apply, and you won't lose anything," she said.