Record Year Celebrated at 2019 Undergraduate Scholars and Major Awards Dinner
Daniel Wallace
May 3, 2019 
The Honors College held its 2019 Undergraduate Scholars and Major Awards recognition dinner on April
22, in the Elizabeth D. Rockwell Pavilion of the M.D. Anderson Library. Students, faculty, and staff gathered to celebrate another record-breaking year at UH. Provost Paula Myrick Short offered the opening remarks, praising UH students for their continued success in the field of national fellowships and awards, and William Monroe, dean of the Honors College, recognized the 12 recipients of the Outstanding First Year Students awards. 
"Participating in the Honors College Undergraduate Scholars and Major Awards Recognition Dinner is always a delight" said Paula Myrick Short, UH senior vice president for academic affairs and provost. "I continue to be impressed by the talents and successes of our students, and admire them for their efforts to pursue such competitive scholarships. Regardless of their successes as applicants, I hope each participant has learned something about themselves through this process."
Ben Rayder, director of National Fellowships and Major Awards in the Office of Undergraduate Research (OUR), spoke in acknowledgement of major awards applicants and Houston scholars. In addition, two students—Danielle Niangar, recipient of a Fulbright U.S. Student Program Grant to Italy and Finalist for the Truman Scholarship, and Victor Yau, recipient of the Charles B. Rangel International Affairs Graduate Fellowship, Boren Awards, and a Critical Language Scholarship—spoke about the application process. 
"Since 2016," said Rayder, "the number of UH recipients, alternates, finalists, and honorable mentions has increased more than fourfold. The achievements we honor at this event would not be possible without the generous support of the Office of the Provost, the Division of Research, the Houston Scholars Faculty Steering Committee, University of Houston Faculty, UH Learning Abroad, and the Honors College. As the saying goes, it truly takes a village to achieve this kind of success."    
2019 Fellowship Highlights are as follows:           
11 Fulbrights—an institutional record.
  8 DAAD RISE Scholarships—another institutional record.
  5 NSF GRFP
  3 Boren Scholarships—most ever in a given year.
  2 Goldwater Scholarships—first since 2014.
  2 Critical Language Scholarships—UH firsts for Persian and Urdu.
  1 Udall Scholarship—the second ever for UH.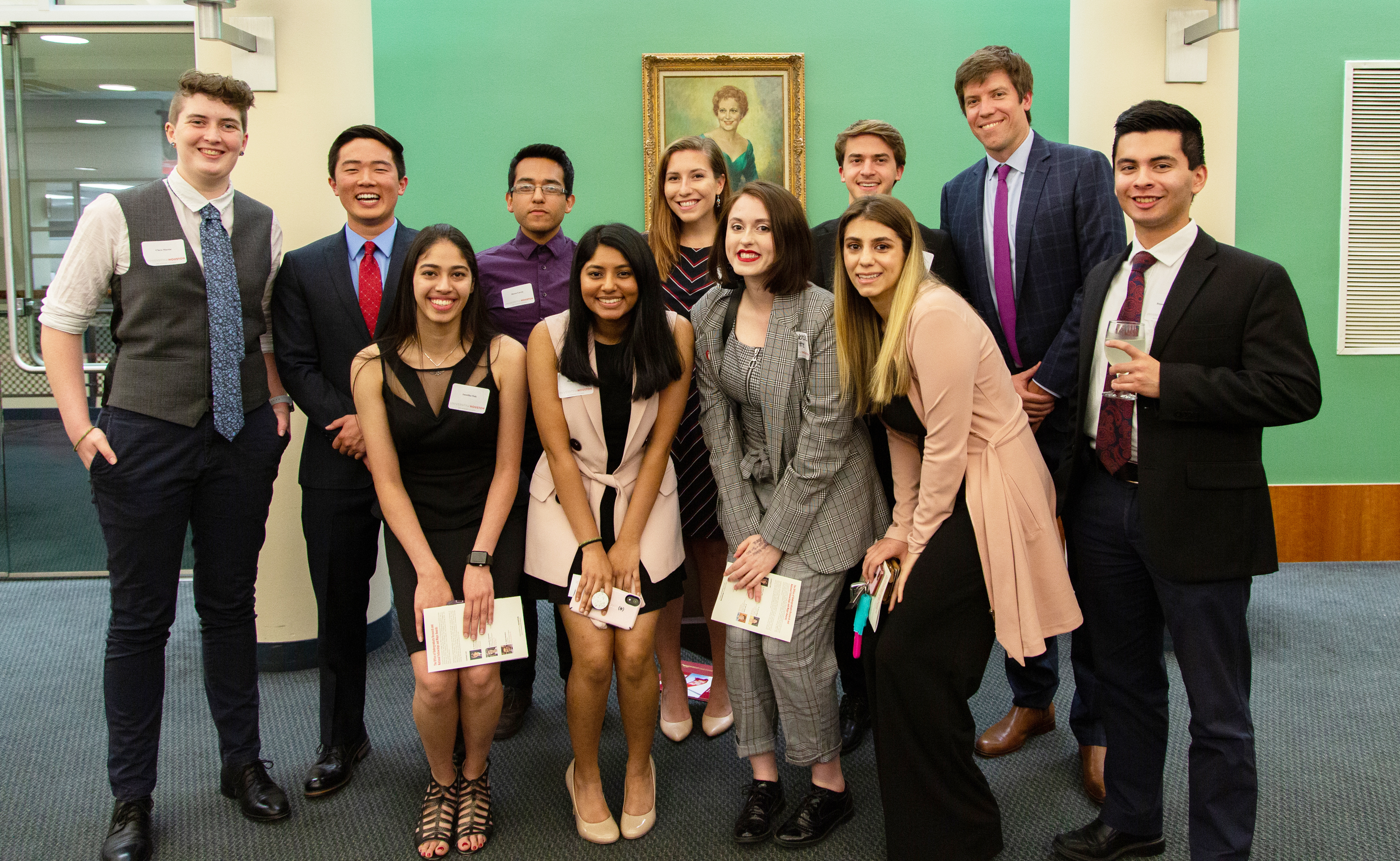 Many of the recipients honored were members of the Houston Scholars Program, which is supported by the Office of the Provost, and provides professional and intellectual guidance to students who demonstrate excellence in academics, leadership, and service. This goal is achieved by means of faculty mentorship, discussion seminars, scholarship information sessions, and proposal development. Houston Scholars can also apply for funding to conduct research, travel, or service proposals. For the 2019-2020 academic year, 15 additional Houston Scholars will join the program, thanks to a generous donation from UH alumni Patrick and Jesika Scott.
 "By celebrating students, starting with the Houston Scholars and Outstanding First Year Award recipients through the graduating seniors applying for major awards, this event highlights the culture of The Honors College, and its ability to help create and support high-achieving, engaged students who will no doubt go on to achieve great things," explained Karen Weber, assistant dean of co-curricular programs in the Honors College, about the purpose of the evening.
Housed in the Honors College, OUR provides advisement and resources, both in-person and online, and coordinates faculty-mentored research opportunities for students of all majors and academic years. Programs offered heighten student engagement; hone research, communication, critical analysis, and problem-solving skills; and promote self-reflection. Prospective and current applicants can take advantage of information sessions, workshops, and advising feedback provided by OUR. For more information about opportunities, students should email the Office of Undergraduate Research at undergrad-research@uh.edu.
---
| | | | |
| --- | --- | --- | --- |
| | | | |
|      Dean William Monroe |           Provost Short |         Dr. Ben Rayder |         Danielle Niangar |
View more images of the awards dinner
here
.
---
The Honors College at the University of Houston is a nationally recognized learning community. As a vibrant, leading presence within the University, the Honors College attracts highly talented and motivated students and educators to a collegial environment where tradition is honored and possibilities are both created and realized.