Music Composition Alumna Finds Harmony Between Language and Music Studies While on Fulbright Assignment in Russia
by Mallory Chesser ('08)
Sept. 13, 2019
A national merit scholar, Honors College student, pianist, composer, and winner of multiple nationally competitive scholarships—and now, a teacher, too. 
Madeline Styskal ('18), a graduate of the University of Houston with a bachelor's in music composition
from the Moores School of Music, discovered an aptitude for teaching while on assignment with the Fulbright Program in Voronezh, Russia for the 2018-19 academic year. She is pictured here, on the left, with a friend touring the city.
"Stepping into the role of English teacher was outside my realm of immediate experience," said Styskal, about the first days of her teaching assistantship at Voronezh State University. "As a student pianist and composer, I was used to working and practicing mostly by myself. I'd never given a whole lecture in my life. Suddenly, I found myself presenting in front of multiple classes a day." 
By drawing on the strategies that were useful to her as a Russian language learner, Styskal soon hit her stride, spending less time on formal presentations and more time encouraging students to practice their English conversational skills. 
"The more I left behind rigid lesson plans, the more engaged the students were, and the more they wanted to speak. We incorporated games and activities when possible, and worked on group conversational practice," she said. 
Beyond the classroom, Styskal made the most of her time, advancing both her music and Russian language skills.
"Ever since first traveling to Moscow on a UH summer exchange program, my language studies have sometimes been at odds with my music studies. In Voronezh, this tension began to resolve as I found side projects to continue growing as a musician in a Russian-speaking context." 
Styskal's supervisor got permission for her to practice on the grand piano in the university's auditorium. The local Catholic church requested her services as keyboardist, and Styskal also rehearsed and performed with the church's chamber choir. When the opportunity to take violin lessons came along, Styskal jumped at the chance. These projects kept her skills in tune for a perfect, life-changing opportunity, when a composer and friend of Styskal's invited her to perform her original piece, "It Was Purple," at "Musica Integral," a classical music festival that takes place in Moscow every May.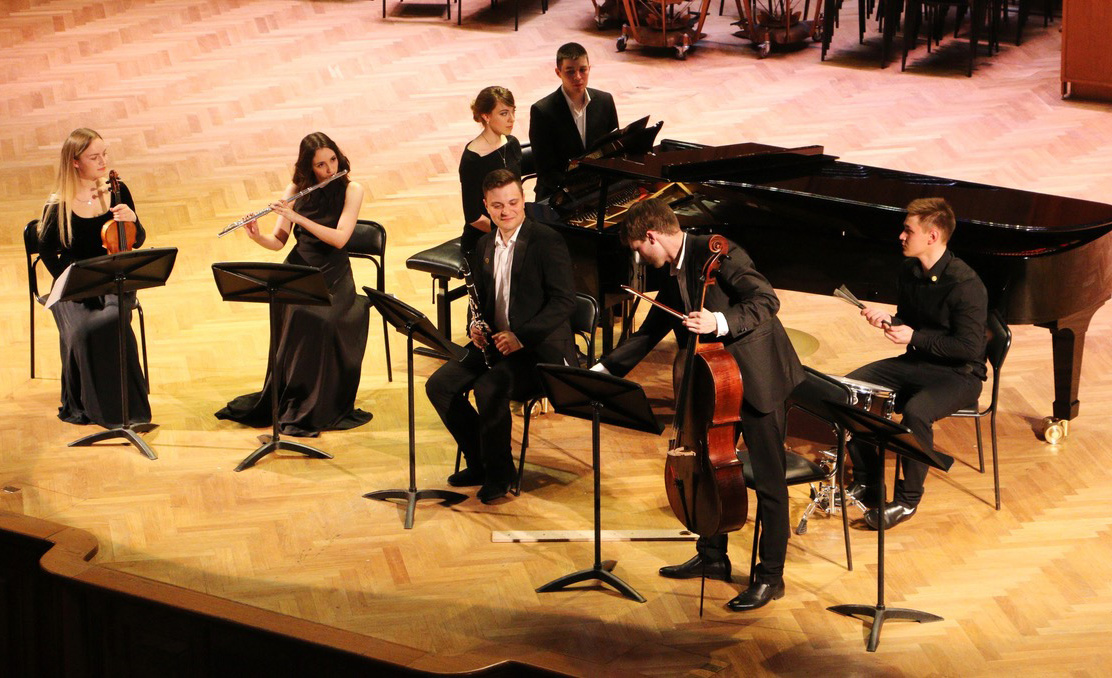 "Everything I'd been working on in Russia and Houston culminated at the musical festival's gala concert, when my new friends and I walked onto the stage," said Styskal. "Here I was, about to perform my original piece influenced by American jazz in the Great Hall of the Moscow Conservatory." 
In the upcoming academic year, Styskal hopes to build on this success by studying composition and piano performance at the Moscow Conservatory on a post-graduate certificate program. Her Fulbright teaching experience has confirmed her desire to get a master's and doctorate in music, so that she can continue teaching and creating in a university environment.
Styskal, whose recent success has been the culmination of several years' effort and achievement, has some good advice for students hoping for a grand finale to their undergraduate careers. 
"Spread yourself broadly at first, and go deeper as you follow your interests. There are some amazing resources at UH. My exposure to Russian classical music drew me to language and cultural study. This took me to Moscow, then Nizhniy Novgorod, then Irkutsk. These studies led to my Fulbright experience in Voronezh. And you never know—your minor, your hobby, your side gig, may make you the biomedical sciences student who stands out among other applicants." 
For information about applying for a Fulbright Scholarship, contact Dr. Ben Rayder (btrayder@uh.edu), director of national fellowships and major awards in the Office of Undergraduate Research, which is housed in the Honors College.