DSAES News
July 21, 2022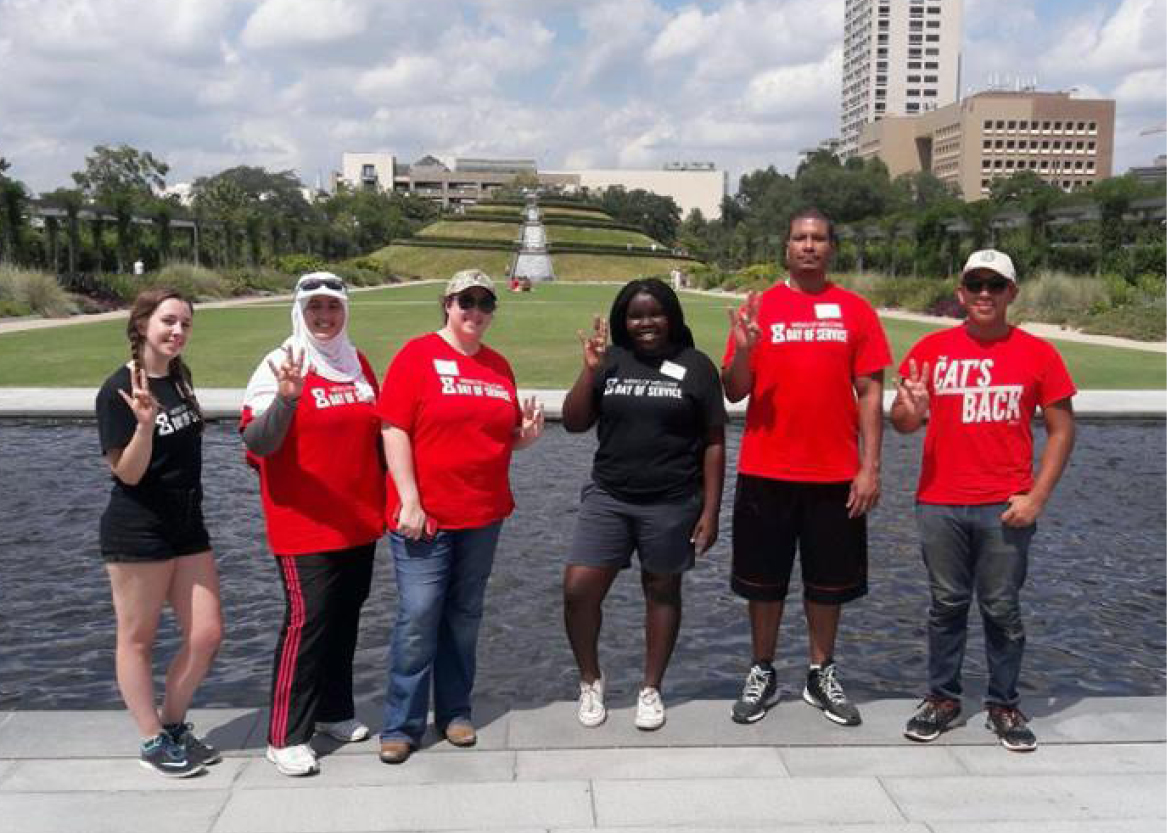 The Center for Student Involvement (CSI) is known for creating civic engagement opportunities for the UH community, and following Hurricane Harvey, the center stepped in to coordinate several activities to motivate students to help those in need. One initiative was the development of a relief website for Cougars to highlight volunteer and donation opportunities. In addition to the website, CSI organized a Harvey Donation Drive, created a form for students to track service hours tied to Harvey relief efforts, and reached out to a wide range of local organizations who were accepting volunteers or donations to provide students with an opportunity to assist one another on and off-campus.
"We have had a strong response from students, faculty, and staff that wanted to contribute," stated Katy Kaesebier, Associate Director of Leadership and Civic Engagement with the Center for Student Involvement. "We collected 5,300 items from our list and distributed nearly 4,000 items to

 

UH

 

community members. The approximate 1,300 items remaining were relocated to

 

UH

 

at Sugar Land, and a distribution center was set up to support Cougars who work and attend classes there. Currently, 147 people have logged 1,450 volunteer hours directly tied to Harvey relief efforts, and it has been inspiring to see the number of

 

UH

 

community members that have made this a longer-term commitment than a single afternoon spent volunteering. CSI will continue to track these number and expect to see additional entries in the coming weeks and months."
Students also took the lead to coordinate relief efforts, specifically with the use of social media. Environmental Sciences & Civil Engineering student, True Furrh created the UH Harvey Relief Carpooling & Volunteer Opportunities for Students Facebook group that has more than 1200 members and includes active contributors who are sharing support and assistance to those in need.
"It's been amazing to see so many groups interact and send students out [into the community]. I saw so many people organizing events and opportunities, from painting shelters to serving at the Wheeler Avenue Baptist Church and sorting donations at BBVA, it's the student leadership that made the group successful. There was only so much any one person could do, the Facebook group was driven by the collective, not just any person, the only thing I did was give it a spark," said True. "The Facebook group has slowed down a bit, but opportunities are still being posted. I'd like to see people who were involved in immediate relief transition to more long-term, sustainable projects.

 

UH

 

CARES is working on opportunities just like that, and we're in the process of collaborating with other orgs on campus to maximize the good

 

UH

 

can do for our community and city."
Historically, CSI has hosted two large-scale Days of Service each year, which include one-time volunteer opportunities available to UH students, faculty, and staff that occur in the fall and the spring. For this year's WOW Day of Service in the fall, CSI was able to highlight community agencies that were working directly with Harvey recovery efforts on September 16, 2017. CSI sent five buses to eight different agencies for Day of Service that including the following opportunities:
Painting a house and picking up debris with Generation One
Trash and debris pick up with Southeast Houston Transformation Alliance/South Union Civic Association
Garden maintenance and clean up with McGovern Gardens
Replanting and clean up with Project Row Houses
Sorting book donations and packaging books to be distributed to libraries that had been impacted by Harvey with the Houston Public Library
Trail maintenance at Hermann Park
Neighborhood clean up with Forge for Families
Sorting donations and building new children's furniture to replace furniture damaged in Harvey with Yellowstone Academy
"At WOW Day of Service, I spent my Saturday morning building furniture for a school in the Third Ward. The tables and chairs had been damaged by floodwater from Harvey. With the help of the Day of Service, I was able to make a preschool classroom functional for learning again," remarked Lisa Menda, the Director of the Metropolitan Volunteer Program (MVP).
For students, faculty, and staff who are looking for volunteer opportunities in the future, CSI will host the MLK Day of Service on Saturday, January 20, 2018. The MLK Day of Service is a part of United We Serve, the President's national call to service initiative. It calls for Americans from all walks of life to work together to provide solutions to our most pressing national problems. The MLK Day of Service is one piece of the campus-wide initiative to honor the life and legacy of Dr. Martin Luther King, Jr.
For more information about you can get involved with the Center for Student Involvement, visit http://www.uh.edu/csi.
About the Center for Student Involvement
CSI provides involvement opportunities for students at the University of Houston main campus. The University of Houston's diverse population ensures that there is a place for everyone, and The Center for Student Involvement helps each student find it. Over 500 student organizations are registered with CSI and it is the central location for leadership programs and civic engagement opportunities. Advising staff assist fee-funded groups with the event planning of campus events and traditions. The guidance and educational experiences offered by the department cultivates skills that will be useful for a lifetime.