Dining
Food trucks once again serving ERP every Wednesday
By Richard Zagrzecki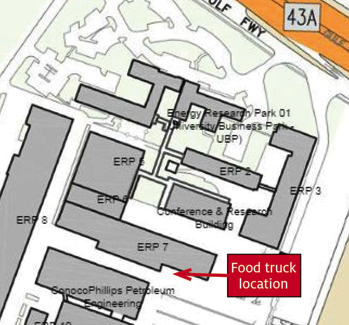 Food trucks are once again serving the Energy Research Park this academic year.
One food truck will be stationed behind ERP Building 7 every Wednesday from 11 a.m. to 3 p.m. The trucks will accept Cougar Cash and will rotate on a schedule so that the same truck is not offered every week. The complete food truck schedule can be found here.
"Students, faculty and staff at ERP took full advantage of the food truck program last year," said Emily Fahner, marketing manager for UH Dining Services. "Because of the popularity and success of the program, it was an easy decision to continue the program again this year."
The ERP food truck program began in the spring of 2014 with a three-week pilot program. Because of the success of the pilot, the program officially kicked off in the fall of 2014 and continued throughout the year.
For more information about dining services at UH, visit www.uh.edu/dining. Join UH Dining on Facebook, Twitter and Instagram to receive the latest dining information,